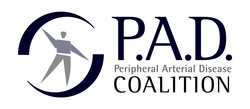 Lakewood, CO (Vocus) May 11, 2010
People who have peripheral arterial disease (P.A.D.) – or clogged arteries of the legs --are likely to develop foot problems. When the blood vessels in the feet and legs are narrowed or blocked, not enough blood flows to these parts of the body. As a result, minor problems such as cuts, sores or blisters cannot heal quickly, or heal at all.
P.A.D. is very common in adults with diabetes and these patients have an even greater risk of foot problems. In addition to poor circulation, people with P.A.D. and diabetes also may develop nerve damage from high blood glucose (sugar) levels, causing loss of feeling in their feet. One may not feel a pebble inside their sock that is causing a sore or not feel a blister develop due to friction or poorly fitting shoes. These small foot injuries can cause sores or ulcers that can turn into serious infections. If not treated promptly, these problems may lead to losing a toe, foot or leg. In fact, P.A.D. is one of the leading causes of foot or leg amputations in the United States and perhaps around the world.
May is World Foot Health Awareness Month, and the P.A.D Coalition is teaming up with the International Federation of Podiatrists to spread messages about proper foot care. People with P.A.D. can prevent serious foot problems and amputations by taking care of their feet—every day.
Foot care tips include:

Wash your feet each day with warm water and a mild soap or cleanser. Dry your feet gently and well. Be sure to dry between the toes.
Check your feet every day for sores, blisters, cuts, red spots and rashes.
Trim your toenails straight across and file the edges. Rounded edges help prevent ingrown toenails that can cause infections.
Wear socks and shoes at all times.
Choose proper footwear. When you buy new shoes, have a shoe expert make sure the size is right for your feet. Break new shoes in slowly.
Protect your feet from hot and cold. Wear socks at night if your feet get cold. Always wear shoes at the beach, the pool, or on hot pavement. If you have diabetes, do not test bath water with your feet; use your arm or hand to be sure the water is not too hot.
For a free "Heart and Sole Kit" with more information on managing P.A.D. and developing a foot care plan, please visit http://www.padcoalition.org or call 1.866.PAD.INFO (866.723.4636). More details and resources on World Foot Health Awareness Month are available at http://www.fipnet.org.
P.A.D. Coalition
The Peripheral Arterial Disease (P.A.D.) Coalition is an alliance of more than 80 North American health organizations, professional societies, government agencies and corporations united to improve the health and care of patients with P.A.D. Established in 2004, the P.A.D. Coalition is a division of the Vascular Disease Foundation (http://www.vdf.org), a national, not-for-profit section 501(c)(3) organization. The P.A.D. Coalition seeks to improve the prevention, early detection, treatment, and rehabilitation of people with, or at risk for, P.A.D.
The International Federation of Podiatrists
The International Federation of Podiatrists (FIP) was founded in 1947 and is an international organization of podiatric practitioners which currently represents 28 international member organizations located on 6 out of the 7 continents of the world. Its more than 85,000 members provide over 200 million episodes of foot and ankle care each year. The FIP mission is to advance the profession of podiatry through advocacy, education and strategic alliances for the benefit of all with foot and ankle ailments. For more information on the FIP go to http://www.fipnet.org
###