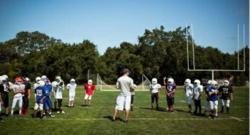 With Mike Jordan at the helm, these camps will run with the utmost quality and professionalism.
San Rafael, Calif. (PRWEB) February 08, 2013
Contact Football Camps will be offering two camps in the Southern California Area for the 2013 summer: Cal State Lutheran Football Camp in Thousand Oaks, July 7-10; and the University of San Diego Football Camp in San Diego, July 21-24.
Both camps are directed by Head Football Coach from Grossmont College, Mike Jordan. Mike has been a part of the Grossmont program for over 20 years, where he started as ball boy in the 70's and returned to play n the late 80's as their quarterback. After accepting a scholarship to play at San Jose State he returned to Grossmont as both a teacher and coach. In 1994, he took over as offensive coordinator and over the next 16 years developed some of the best offenses in the state. Since 2006, Mike has served as the programs Head Coach, continuing the tradition with 30 out of 43 games won; 3 post season games and the winning season's extended to 13 straight years.
"With Mike Jordan at the helm, these football camps will run with the utmost quality and professionalism." says Mike de Surville, Vice President of US Sports Camps. "If the success of last summer's camp at the University of San Diego is any indication, both Southern California camps should be the outstanding and exceed parents and campers expectations."
About Contact Football Camps and US Sports Camps
Established in 1977, Contact Football Camps enters its 38th summer operating full contact summer football camps for young players aged 8-18. Thousands of our previous football campers played, or are now playing college football (many at schools represented by our coaching staff).
US Sports Camps (USSC), headquartered in San Rafael, California, is America's largest sports camp network and the licensed operator of Nike Sports Camps. The company has offered summer camps since 1975 with the same mission that defines it today: to shape a lifelong enjoyment of athletics through high quality sports education and skill enhancement.
Players, coaches, parents and others interested in the 2013 Contact Football Camps can visit http://www.ussportscamps.com/football or call 1-800-433-6060.