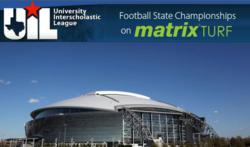 Arlington, TX (PRWEB) January 11, 2013
Among the six talented football teams that have the home field advantage of playing on Matrix Turf, four Texas high schools returned home with a championship trophy. During the latter half of December, Cowboys Stadium hosted the 2012-2013 UIL State Football Championship games on Hellas Sports Construction's patented, three-in-one, convertible, Matrix Turf field.
On Friday, December 14, El Campo, a long-time Hellas client, played for the 3A Conference Division 1 title and fell by a score of 70-35 to Stephenville. A week later, in the Conference 4A Division 2 championship, Lancaster lost 17-7 to Cedar Park – both teams play on Matrix Turf at home.
On Saturday, December 22, faithful Hellas customer Denton Guyer defeated Georgetown 48-37 to claim the Conference 4A Division 1 Championship. Later that afternoon, Katy, who has seven Matrix Turf fields in their district, beat out Cedar Hill 35-24 in the Conference 5A Division 2 football game.
The evening was just as exciting when Allen defeated Houston Lamar 35-21, securing the Conference 5A Division 1 Championship. In 2012, Allen completed a $60 million, state-of-the-art high school football stadium complete with a Matrix Turf field and CUSHDRAIN® elastic layer – both proprietary products developed and installed by Hellas Sports Construction. The CUSHDRAIN significantly improves g-max (shock absorption), field drainage, durability and overall performance of the system for the life of the synthetic turf.
Hellas Sports Construction hosted Randy Bullock, Roland Murray and Christian Cox, Business Development Managers for Hellas, and over 30 guests as they rooted for all of the athletes from a suite at Cowboys Stadium.
Hellas Sports Construction has a strong reputation for delivering premium-quality sports construction projects across the United States. Hellas also manufactures its own proprietary synthetic sport surfaces for field sports, running tracks and tennis courts, controlling all operations from their corporate headquarters in Austin, TX. For more information about Matrix Turf, visit: http://www.matrix-turf.com