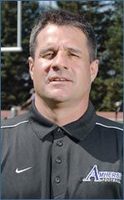 San Rafael, CA (Vocus) March 9, 2010
Amherst College Football Head Coach and long-time Contact Football Camp Director E.J. Mills has been named the Division II/III New England Head Coach of the Year by the Gridiron Club of Greater Boston, the NESCAC Coach of the Year and the American Football Coaches Association Coach of the Year for this past season. EJ's Amherst College football team finished at a perfect 8-0 for the first time since 1984, and won their first outright NESCAC title.
Mike de Surville, Vice President of US Sports Camps and operators of the Contact Football Camps stated, "We are extremely proud of the accomplishments and awards Coach Mills has achieved this past season. It is a true testament to the years of dedication he has made to his program and to his young athletes. This incredible leadership is the reason that our Contact Football Camp at Amherst College is consistently one of our best in the country."
The 2010 Contact Football Camps lead by Coach Mills at Amherst College runs June 26-30 and includes a morning Specialty Clinic on the first day from 9am to 12pm. As with all Contact Football Camps across the country, campers have the opportunity to train each day, work hard, improve, make new friends, and have fun. Each athlete is encouraged to develop new skills and achieve a new level of play and self-confidence. Coach Mills exemplifies the quality of coaches you will find at any of our Contact Football locations this summer as campers work on conditioning, fundamentals and technique at individual positions.
Contact Football Camps locations include: Amherst College, Amherst, MA; Lancaster Bible College, Lancaster, PA; Lake Forest College, Lake Forest, IL; Southwestern University, Georgetown, TX; Menlo College, Atherton, CA (near San Francisco); and Whittier College, Los Angeles, CA.
About US Sports Camps
US Sports Camps (USSC), headquartered in San Rafael, California, is America's largest sports camp network and the licensed operator of NIKE Sports Camps. The company has offered summer sports camps since 1975 with the same mission that defines it today: to shape a lifelong enjoyment of athletics through high quality sports education and skill enhancement.
Players, Coaches, Parents and others interested in Contact Football Camps can visit http://www.ContactFootball.com or call 1-800-433-6060.
###