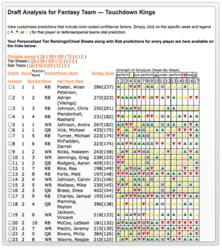 "Our fantasy football software product line, including our Draft Analyzer, is far superior to any fantasy magazines out there," says Russ Bliss.
Phoenix, AZ (PRWEB) June 30, 2011
Fantasy Football Starters announced today it has released the 2011 update of its fantasy football Draft Analyzer. The tool — one of the website's javascript:void(0);Power Analyzer products — helps users create powerful, custom fantasy football cheat sheets based on individual scoring systems and real-time data analysis.
"Our fantasy football software product line, including our Draft Analyzer, is far superior to any fantasy magazines out there," says Russ Bliss, the company's NFL analyst, who has also hosted a fantasy football radio show in Phoenix since 1997. "I was recently reading a magazine where they were projecting stats for the free agent players. How can you predict stats with any degree of accuracy when you don't know where that player is going to end up playing?"
The FFS Draft Analyzer uses historical performance, player/team statistics and forward-projecting stats such as those derived from each NFL team's run-to-pass ratios, to calculate projections for each and every player. Those individual player values can then be used to create customized fantasy football cheat sheets for each position via the two most popular methods for preparing for a fantasy football draft: Tiering and Value Based Draft systems.
"Sure, a player's individual talents are part of what makes his fantasy value, but it's not everything," Bliss explains. "There's also the supporting cast of players around him, the team's strength of schedule, and the offensive system that a player plays in. The combination of these things is what makes our Draft Analyzer product so accurate."
Last year, the Draft Analyzer earned a finalist award from the Fantasy Sports Trade Association for the accuracy of its 2010 fantasy football projections. The contest, held in conjunction with Fantasy Football Librarian and The Most Credible, analyzed fantasy football projections and position rankings from more than 20 competing fantasy websites. When all the final tabulations were made, the Draft Analyzer delivered most accurate pre-season projections and position rankings based on software analysis. No other fantasy draft software ranked higher.
New for Draft Analyzer users in 2011 is the ability to not just see the player rankings, but also the total predicted stats for each player. In addition, FFS has created a "player card" for every NFL player showing his predicted stats each week of the season and a graph showing his projections so users can easily see what weeks he has his strongest and weakest match-ups.
"We are always looking for ways to improve our fantasy football software," says Bliss. "When the NFL and players reach an agreement and the 2011 season begins in earnest, we'll be ready."
In addition to the Draft Analyzer, the company offers a suite of Power Analyzer products, including:
--Personalized Weekly Fantasy Football Projections: personalized for each fantasy football roster, including NFL player stat predictions, updated 24/7.
--SMART Alerts: Personalized player email/SMS alerts on sleepers to draft, players to pick-up (or avoid) starting in season, due to last minute game time decisions.
--Mobile Line-up Analyzer: On-demand predictions from customers' mobile phones on any of your fantasy football rosters, anytime/anywhere.
--NFL Game Predictions: Weekly game predictions on each and every NFL game throughout the entire NFL season.
About Fantasy Football Starters
Fantasy Football Starters is a premium online fantasy football site owned and operated by Ready-Set-Go Fantasy Sports (RSGFS), a new media digital sports content provider based in Phoenix, Arizona. Founded in 2004, RSGFS has also delivered premium fantasy content via licensing agreements with business partners including NFL PLAYERS INC., Sprint, AOL Sports, and others.
# # #