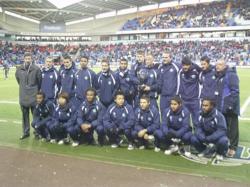 'We have partnered with the EPL's BWFC to deliver what we believe is the best football and education academy in the UK. Education with intense, daily football development led by BWFC coaches, only the serious player need apply!"
-Bilotta
Toronto, Ontario (PRWEB) November 08, 2011
The goal of the EduKick England Football Academy is to work with players on every aspect of their training and education to ensure they develop the physical, technical, tactical and mental foundation required for better performance in football matches and also excel academically. This is accomplished through coaching and training in advanced strength and conditioning techniques, uniquely integrated with mental, nutritional and sports medical principles all enhanced by the environment, facilities and resources of our partners English Premiership club Bolton Wanderers FC!
EduKick England programs are a complete package of international travel, English cultural exposure, English language study & immersion, academic study and professional soccer training.
EduKick is proud to partner with Bolton Wanderers FC International Soccer Schools and IJ Tours Ltd to ensure that participating players have "the English language & culture football experience of a lifetime!" The cornerstone of all EduKick England programs is our "Year Long" Football Studies Course.
EduKick believes that living, studying and training in a foreign country is an invaluable experience that a player will never forget and the benefits of such an experience will be embedded positively into that individual for the rest of his or her life.
EduKick England staff, keenly aware of the challenges that our boarding school presents to our players, are fully committed to our players' overall education through our soccer development and language immersion program.
Living, playing soccer and studying in England as a teenager or young adult represents an enormous challenge for both the participant and the educators and host families (who are responsible for the player's education and general welfare).
From the participant courage, effort and character are required to succeed. From the EduKick England staff, it demands professional guidance, supervision, mentorship and expertise in order to provide the required level of service to our young players.
EduKick England Participants receive:

Professional Coaching by Bolton Wanderers FC (5 x 2.5 hour sessions per Week)
Competitive matches against local colleges, semi – professional and professional youth academy squads (average 1 match per week)
BTEC National Certificate in Sport academic program (15 hours per week)
Individual Fitness program (monitored by BWFC coaches)
Train at the Hi-Tech Bolton Arena Facility and the Bolton Wanderers FC Youth Academy Facility
Full membership to the health & Fitness centre located inside the Bolton Arena
Season pass to all BWFC English Premiership home matches
Local English Host family accommodation
Breakfast & evening meal provided by host family.
EduKick England programs are available:

Year Long Football Studies, September – May
Half Year Football Studies, January – May
Monthly Football Studies – September – May
Weekly Football Studies – September - May
Read a couple of quotes from previous participants and parents at EduKick England:
"It has been a massive learning curve. I have learnt many valuable lessons, how to eat well, train well and live away from home. I came here a small fish in a big pond and have grown. My optimum level has developed and I feel my game has improved, I'm more confident, consistent and can play at a higher level because of my learning curve experienced at EduKick England."
-Haedan Turner (Canada) – EduKick Alumni now with MLS Real Salt Lake academy
"Robert would like to express his gratitude for everything everyone did for him on the course. The EduKick England staff were very welcoming as was the EduKick Head office staff. To see the improvement in his fitness and skill was fantastic."
-Michelle Angeloni (Australia) – EduKick England participant parent
Interested parties should click on the following link to see the EduKick England - BWFC "Introduction Video" and "Parent Course Manual" which describes in detail the "Football Studies" courses available:
Registration is open now to begin in January 2012 for the "Half-Year" Course or September 2012 for the "Academic-Year" Course.
EduKick International Football Academies (EIFA) offers international football and education academies for competitive soccer players worldwide in England, Spain, Italy, France, Brazil, Mexico, Canada and the USA.
###