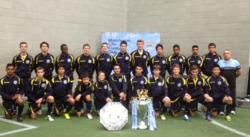 This is a genuine opportunity for international players to come to England, be evaluated by professional English scouts and coaches and possibly impress enough to be invited to a pro club for further evaluation.
- Joey Bilotta, EduKick V.P.
Manchester, England (PRWEB) June 25, 2013
EduKick Manchester International Football & Education Academy announces its 2013-14 schedule for their Football Trials Program for competitive international footballers worldwide between the ages of 14 and 24.
The EduKick Manchester Football Trials program schedule is set with the summer trial program being held from August 4 -18, 2013 and then additional EduKick Manchester trial programs to be organized in the winter, spring and fall of 2014.
The EduKick Manchester Academy provides professional football training combined with quality academic instruction, cultural excursions, social activities and professional soccer trial opportunity in order to maximize the young person's overall experience while abroad in England with EduKick.
The goal of EduKick Manchester Academy is for each participant to enjoy the trial experience, have fun both on and off the pitch and gain a greater understanding of their playing level in comparison to the requirements of UK professional football clubs. On the pitch coaches will work with the players on every aspect of their training to ensure they develop the physical, technical, tactical and mental foundation required for ultimate performance in the open trial that the participating players will attend.
Week one of the program is concentrated on physical and technical preparation leading up to the actual trial day. Firstly, players arriving from around the world will need to acclimatize and recover from any jet lag from their journey. EduKick Manchester professional football coaches will assist players to work on all aspects of their game from day one with well-structured coaching sessions designed to bring out the best in the participating players. Players also receive guidance on how to adapt to the nuances of the English game.
EduKick staff will be highlighting exactly what to expect on the trial day itself so that players are both physically and mentally prepared, relaxed and able to give and show their best.
Week two of the program begins with the big day of the trial on Monday afternoon. After the try-out session, players will receive feedback on their performance and will get the opportunity to put questions to the coaches and scouts assessing performances. Players will learn much about individual strengths and identify some specific areas for development that will help them to become better players.
Also, and more importantly, if anyone impresses during this trial session, they may then be invited to attend a further trial at an English professional club. These subsequent invitation only trials will be scheduled during week two of the program. Some clubs may then invite EduKick players to stay and trial over a longer period of time, if they feel that they are indeed a promising football prospect.
There are two key coaches during the open trial, one will be Mr. John Dungwort, an UEFA PRO LICENCE COACH. John is one of only 200 coaches in England with the highest coaching qualification in the world and is hugely respected within the game and if he gives a player his recommendation top clubs and Managers listen.
As a pro, John achieved 550 League & Cup appearances, 2 at Wembley stadium and scored 130 goals. He won the Adidas Golden Boot for the most goals scored in the 1978/79 season. As head of the Leeds United Academy he also coached alongside Eddie Gray, where in 1997/98 season the youth team squad were the semi-finalists in the FA Youth Cup. Five of the players from this team; Paul Robinson, Jonathan Woodgate, Matthew Jones, Stephen McPhail and Alan Smith have all gone on to achieve international recognition and play at the highest level.
The other key coach in the evaluation process is Mr. Ian Whyte, a former professional player (clubs included Norwich and Scunthorpe) who after retiring has had a series of high profile coaching roles alongside the likes of the legendary Paul Hart at Nottingham Forrest and Portsmouth, with roles also at Sheffield United, Derby County and Wolves to name a few. With his 25 years in the Pro game, Ian has worked with and developed some fantastic professional and international players, including; Jermaine Jenas (QPR & England), Michael Dawson (Spurs & England), Elliott Bennett (Norwich). Ian has a massive football network meaning extra opportunities for any EduKick players at the right level or standard.
EduKick Manchester academy players have had success in the past. EduKick Manchester recently announced that Eric Behrens, 16 years old from Germany, signed a contract to join Derby County Football Club.
Inquire about the EduKick Manchester Football Trials Program or their Year Long Football and Education Academy at the contact information presented in this release.