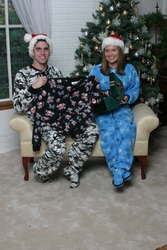 Take it back to your child hood with Footed Pajamas. Get a matching set of footed pajamas for the entire family.
Lambertville, MI (PRWEB) December 4, 2009
The Christmas and holiday gift trend is to buy retro, nostalgic presents that bring an adult back to their childhood. This is seen as hot items include adult footed pajamas, nostalgic candies, and popular board games of yesteryear. As our population continues to get older, more and more people want to embrace the memories of being a kid.
Everybody remembers their childhood, when footed pajamas meant a snuggly bed, without a care in the world. As adults, wearing adult footed pajamas symbolizes comfort and being carefree. Adult footed pajamas make people feel fun and youthful. http://www.adultfootedpjs.com is an excellent resource to find quality, adult footed pajamas.
Sue, a 55-year-old from Columbus says this "I originally bought my sister a pair of adult footed pajamas as a gag gift. She loved them so much; she talked me into a pair for myself. It brings us back to the days when our mom was around and every Christmas would get each of us kids a pair. It's amazing how a piece of clothing can take you back in time."
Nostalgic candies and music are also popular gifts for Christmas this year. They have the old boxes of chick-o-sticks, and Mary Jane's. Popular music of years past is being rerecorded and released as hits such as "I will survive". To bring an adult back to their youth is "thoughtful", and that is why these items are so popular to give.
Pajama Central, LLC was founded in 2006 to provide people with quality, comfort and variety in adult footed pajamas. The site offers a range in patterns and sizes from infants to adults.
# # #