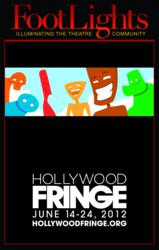 Helping theatre grow is the core of our business and we are pleased to be part of a theatre event dedicated to experiment and innovation." - Peter Finlayson, CEO/Publisher, FootLights Publishing, Inc.
Los Angeles, California (PRWEB) April 24, 2012
Theatre program publisher and marketing firm, Footlights Publishing Inc. of California, announced today an expansion of its support for the Hollywood Fringe Festival, an annual celebration of the emerging arts slated for June 14 – 24, 2012.
FootLights has assisted in the publishing of the Hollywood Fringe Festival guide and supported the event since it began in 2010. This year, FootLights will sponsor two new Fringe Festival awards and provide affordable advertising opportunities and specially designed programs for theatrical presentations entered in the festival.
"FootLights' mission has always been to illuminate the theatre community, to shed light on what people are doing, how artists reach out and comment on the world around them," says Peter Finlayson, publisher and CEO of FootLights Publishing, Inc. "We would be failing in our mission if we didn't lend as much support as we could afford to such an important event."
In the spirit of FootLights' mission, the new Fringe Festival awards will highlight productions' marketing savvy.
The FootLights Community Commitment Award will honor the production that demonstrates a clear understanding of the audience'' need and the show's capacity to meet the challenge.
The FootLights Marketing Award will spotlight the production that best markets its show. The winner will be selected based on the esthetic values of promotional materials as well as the highest percentage of seats sold in relation to seats offered.
"FootLights' Fringe Festival awards are a token of our commitment to assisting the festival and theatre productions in the Los Angeles theatre community. Helping theatre grow is the core of our business and we are pleased to be part of a theatre event dedicated to experiment and innovation," says Finlayson.
Fringe Festivals by design are on the cutting edge of the theatre scene. Many innovative concepts in theatre have sprung from these festivals.
As the Hollywood Fringe Festival has gained in strength and popularity, it too is becoming an important event ushering in new talent and new views in the Los Angeles area as well as participants from around the world.
The Hollywood Fringe Festival adheres to several traditional aspects of North American Fringe Festivals but also has developed its own characteristics.
As with most Fringe Festivals, Hollywood Fringe productions are self-produced by local, national, and international arts companies and independent performers. Participation is open and uncensored. However, the shows are presented in both traditional and unorthodox venues anywhere within the boundaries of Hollywood not arranged solely by the festival. Venues include fully equipped theatres, street corners, clubs, bars, and places unexpected.
More than 20,000 performing arts enthusiasts are expected to attend the Hollywood Fringe Festival this year.
About Footlights Publishing
Footlights Publishing, Inc. is the publisher of Footlights theatre programs for theatres of all sizes in California. The mission of Footlights Publishing, Inc. is to "illuminate the theatre community and expand audience interest and participation in California's ever-expanding, diverse, and creative theatres."