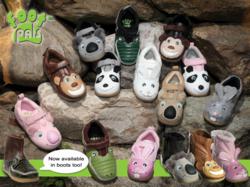 Every kid needs a Pal!
Boston, MA (PRWEB) November 16, 2012
FootPals released their line of shoes featuring playful and imaginative footwear for kids sizes 6-12. Comfortable with every step, they're made with quality-tested materials and meet all Consumer Product Safety Commission guidelines. Because every kid needs a pal, and FootPals always want to play.
FootPals are available for purchase on FootPals.com. The bright and playful website features bunnies, monkeys, gators, koalas, and panda velcro shoes in a variety of colors for both boys and girls. Brand new to the lineup are bunny, gator, koala and monkey boots with calf-length zippered insoles, just in time for winter. And for those growing feet, they also have a handy sizing chart available for download. Online shoe shopping simplified!
Priced at $39.99, these children's shoes boast quality details like intricate stitching and dimensional eyes, and durable, lightweight and flexible soles. Their secure fit, roomy toe box, and moisture wicking insoles are perfect for active and growing feet. They're also easy to take on and off, as the shoes have velcro, and the boots feature zippers. Perfect for parents and independent kids - unless of course they refuse to take them off!
The shoes arrive in a kid-friendly shoebox, reminiscent of an antique travel suitcase, complete with an adventure packet. Kids can name their Pals with the pet license, and add stickers to their FootPals passport for each adventure they take their Pals on.
FootPals is a small New England company comprised of parents and grandparents, aunts and uncles. With children of their own, their priority is to create comfortable and durable shoes that they're proud to put on their children's feet - and that their children love to wear. Their quality control testers, Zooey and Liam, take their jobs quite seriously. When asked about her role, Zooey, age 2, claims, "my feet are fun!" She wants to ride an airplane with them so she can add that sticker to her Pals passport.
For more information, please contact marketing (at) footpals (dot) com, or visit http://www.footpals.com.