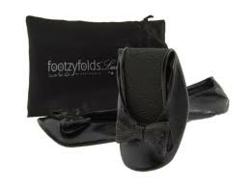 Sisters Sarah and Jenifer Caplan created their fashionable footwear company out of necessity.
Albany, New York (PRWEB) December 11, 2012
FootzyFolds shoe company has received a recent airing on the Katie Couric Show, and the inventory is now becoming popular with women according to an iTrustNews report published online. These new roll up shoes for women are helping more ladies to carry extra pairs of shoes for just the right occasion. The new report found that this retailer online is now selling these designer shoes at a discount.
Sisters, Sarah and Jenifer Caplan, created their fashionable footwear company out of necessity. The long hours spent at social dinners, weddings and public places while wearing high heels became uncomfortable for these ladies.
The iTrustNews.com report details how these ladies started from scratch and have now earned millions selling Footzy folds shoes worldwide. The television show exposure is expected to deplete online inventory levels of retailers according to the report.
It is the design that has helped the variety of shoes now offered to get attention from women around the world. A hard rubber bottom exists for each shoe although the fabric remains soft and not made of leather.
This engineering is what provides comfort as well as portability when women need to change shoes quickly. Because this product is brand new, not all retailers have the various designs and color choices available in stock as reported by iTrustnews.com. A new YouTube video describing the engineering can be found at this link: http://www.youtube.com/watch?v=bseBUM6_r5g.
One of the features that has drawn attention to the shoe design is the quality of fabric. While some shoe companies rely on lower grade materials, the colorful prints and designer options available with this new series helps to make each shoe stand out. The ballet versions, slippers and flats are designed to help a lady keep her sense of fashion anywhere and at anytime according to the report.
The iTrustNews.com report of the television exposure and review of these rolled shoes is scheduled to be updated as holiday supply information is reported and evaluated. Some sellers are reporting discounts online and supplies could be limited due to the national exposure of the Footzyfolds formerly Footzyrolls company.
About iTrustNews
The iTrustNews company provides product reviews, consumer reviews and news information from a single online resource. The online launch in 2011 has helped this 21st century media company to reach a new base of consumers online. The brand new consumer reviews and reports sections located on the iTrustNews website is one of the newest additions to this company. A team of researchers and writers contribute to the discounts, stock reports and other information used by men and women worldwide. A 2012 syndication partnership for this company is now responsible for syndication of content on hundreds of websites daily.