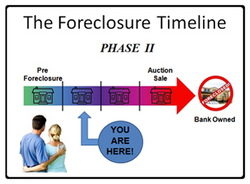 Just like a FICO score essentially measures a person's ability to pay on their credit or loan, a FOPI score reflects activities on the foreclosure timeline
San Diego, CA (PRWEB) July 24, 2009
Homeowners now have a new tool called a FOPI score to help identify their risk of facing foreclosure. FOPI is an acronym for Foreclosure Probability Index, a numerical representation of the likelihood to lose real estate property due to foreclosure. The FOPI score is the result of research by Project HomeWatch a San Diego area company dedicated to providing important resources for people who are losing their homes and businesses because of financial troubles.
"Just like a FICO score essentially measures a person's ability to pay on their credit or loan, a FOPI score reflects activities on the foreclosure timeline," explains Egbert Oostburg, Director of Outreach at Project HomeWatch. He adds, "Knowing the FOPI score will help homeowners determine steps they can take to either get through, or avoid, foreclosure altogether."
The FOPI score is generated by a proprietary online monitoring system called "The HomeWatch Tracker." Through the use of data calculation algorithms and data provided by First American Corelogic, a FOPI score is produced on a scale of 0 to 500. The HomeWatch Tracker continually tracks any pending activity against a property including: preliminary injunctions, liens, notice of default, notice of trustee's sale, notice of sheriff's sale, and other factors, and allows a homeowner to monitor all aspects of their home's property value. Any key changes affecting foreclosure status trigger options for managing the process.
"Since your FOPI score represents the likelihood of losing your home at an eventual auction, the score will have the tendency to increase over the natural passage of time," says Oostburg. He also says, "A decreasing FOPI score would reflect activities which move you closer towards maintaining ownership and possession of your home."
Oostburg has firsthand knowledge of the trying process of foreclosure. When faced with the prospect of losing his house, Oostburg found very few online or offline resources that could provide straight answers to what he thought were basic, but important, questions: How long before I have to move out if I stop making my mortgage payment? Do I qualify for a loan modification if I decide to stay in my home? What about government assistance programs? Oostburg says that his experience led to the creation of the FOPI score. "I was determined to develop an easy way for people to understand the different and difficult phases involved when a lender informs you of a foreclosure."
To find how to access FOPI scores, please visit getforeclosurereliefnow.com
About Project HomeWatch:
Project HomeWatch provides a place of community where people can acquire the support they need to help them get through the trying process of foreclosure. The HomeWatch Tracker is the exclusive monitoring tool used by homeowners to make decisions with respect to their specific situation.
# # #