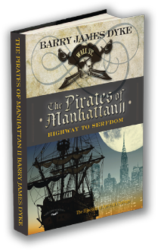 It's another showcase for Wall Street greed, and when it implodes, the taxpayer will hold the bag.
(PRWEB) April 10, 2012
Best-selling NH author Barry James Dyke reports that Mitt Romney, Wall Street finance and wealthy politicians "have a steamy love affair with the for-profit education student loan academic-industrial-complex." In his new book, The Pirates of Manhattan II: Highway to Serfdom http://www.thepiratesofmanhattan.com the author documents the oncoming $1 trillion student loan tsunami in both for-profit and not-for-profit schools. Dyke argues the interconnection of Wall Street private equity firms in monster "club deals" which include Bain Capital, Goldman Sachs, JPMorgan Chase, Citigroup, KKR, Carlyle and Providence Equity.
The author states, "For-profit education companies revenue stream is almost entirely dependent on the federal government funded student loans. For-profit school enrollment has gone from 385,000 in 2000 to 1.8 million in 2010. The Government Accounting Office (GAO), in a 2010 report found that for-profit colleges engaged in deceptive practices, encouraged fraud to enroll students, saddled them with large debts and offered few solid job prospects to pay back loans. For-profit schools enroll 10% of the people into colleges, used up 25% of government financial aid and account for 44% of student loan defaults" The author continues, "to make matters worse, much of for-profit education student loan academic complex capital/equity base is supplied by mutual funds, which get their funding from Main Street America's 401(k)s. It's another showcase for Wall Street greed, and when it implodes, the taxpayer will hold the bag."
The author explains, "Mitt Romney's Florida primary fundraising chairman was James 'Bill' Heavener, the CEO of Full Sail University, a for-profit college. Heavener contributed $85 thousand to a super PAC (Political Action Committee) Restore Our Future—supporting Romney which is run by former Romney aides." (To see Romney's endorsement of Full Sail and other for-profit schools, see this YouTube: http://www.youtube.com/watch?v=wF_9r6-DLTw )
For further information about The Pirates of Manhattan II: Highway to Serfdom contact the author at castleassetmgmt (at) comcast (dot) net or telephone 603-929-7891. http://www.thepiratesofmanhattan.com