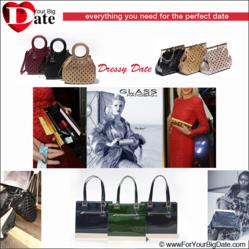 We scour the fashion world looking for just the right products for our clientele, and know you will love Glass Handbag, the perfect partnership of elegance, class, versatility and practicality as much as we do!
Los Angeles, CA (PRWEB) February 07, 2013
ForYourBigDate.com, the groundbreaking one-stop-shop for anything date related, has expanded their selection of high-end accessories with Glass Handbag light-contained bags.
As seen on the Steve Harvey Show, Glass bags are a red carpet favorite, touting such fans as Gladys Knight, Carrie Ann Inaba, Katherine Jenkins, Karina Smirnoff, Susan Lucci and more.
As an already growing web retail experience, ForYourBigDate.com is continuing to expand to offer everything a single or married woman may need for every type of date or occasion. Not only do they offer a wholly unique shopping experience – Shop by date category: Dressy Date, Casual Date, Sexy Date, Your Place Date or Before Date – the online shopping destination also includes a broad selection of products ranging from dresses, accessories and handbags for all types of date to skin care and playfully sinful sexy accessories.
Additionally, http://www.ForYourBigDate.com is experiencing tremendous success in their groundbreaking website experience, including:

Dating tips
General beauty and self-care advice
Unique perspectives through articles and usage tips throughout the website
A broad assortment of writers and advice givers, varying from average men and women, to an expert stylist and psychologist
"We are pleased to welcome Glass Handbag to our online store, the perfect partnership of elegance, class, versatility and practicality that we strive to provide our customer at http://www.ForYourBigDate.com. We scour the fashion world looking for just the right products for our clientele, and know you will love these handbags as much as we do. We look forward to a long-termshared success with Glass Handbag!" – ViktoriaKanevsky, Owner
ForYourBigDate.com is created on the premise that each and every dating experience can and should be flawless – from the inside out! Each participant must be happy and healthy of heart to find whatever they are looking for – whether it is a continued successful marriage, a first date or a long-term bound relationship. This groundbreaking format integrates the best of all worlds, including quality high-end products like Glass Handbag, to make each date perfect – attire, accessories, handbags, intimates, candles, gifts and more. Coupling the right supplies with the ultimate collection of love resources – dating and relationship advice, true-life experiences, tips on what to wear and how to wear it, beauty and style, fashion and fitness – ensures that the consumer will find everything they need to feel good, look good and success in the dating world.
About Glass Handbag
High-end fashion meets function – fine luxury handbags with integrated lights inside that cast a uniform glow throughout the entire bag without getting in the way.
About http://www.ForYourBigDate.com
Founded by a uniquely fabulous, high-end e-commerce expert, former executive-level contributor to a multimillion-dollar fashion legacy and dating/relationship/healing broken heart expert, ViktoriaKanevsky.
Viktoria decided that something big was missing in the dating market… the products are there, but many people don't know where to find them or how to use them to their best advantage. So, she decided to break the mold and offer a one-stop-shop for all dating needs in a new way, "Shop By Type of Date":

Dressy Date – Dinner parties, weddings, black-tie gatherings, cocktail parties, fancy restaurants
Sexy Date–You know where you want it to go… so dress the part and light his fire
Casual Date – Meet ups at casual environments – coffee shops, outside dates, etc.
Your Place Date – His or hers
Before Date – All the things she needs before the date to ensure she feels as awesome as she is
ForYourBigDate.com is located in the heart of Hollywood, and has contributors from every aspect of beauty, entertainment, fashion and internet industries, all with one thing in common - Each believes that love, romance and dating, whether you are single, long-term or terminal (married), is imperative to continued happiness and success in all areas of life.