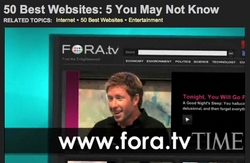 San Francisco, CA (PRWEB) August 25, 2009
FORA.tv, the leading destination and distributor of smart video programs, has been selected by TIME.com editors as one of the 50 Best Websites 2009 and featured in the 5 You May Not Know category.
"Whoever said television makes you stupid never saw FORA.tv," writes TIME.com's Adam Fisher. "Fora TV is the place to turn to after you've seen your nth viral video and realize your brain itself is in danger of becoming infected."
FORA.tv is "one site that has really caught our eye this year," says TIME.com's Shea Hess in a short video program describing web sites that "are just waiting to blow-up."
"It's an honor to be recognized for gathering the best video programming from top universities and conferences," says Blaise Zerega, president and CEO of FORA.tv. "We will continue our rapid innovation to serve an engaged, intelligent audience."
TIME.com's 50 honored websites include YouTube, Facebook, Amazon, and BoingBoing among others.
With strong content partners ranging from the Aspen Institute to Georgetown University to EG to the Chautauqua Institution, FORA.tv has assembled the Web's largest library of smart, issues-oriented video and is reshaping the way audiences discover and engage with media. The company is helping drive the transformation of online video as it evolves from the mass appeal of user-generated clips to a broad range of highly-segmented offerings. In this new world of vast content choices, 70 percent of online viewers are watching video from the news and current events category.
ABOUT FORA.tv
FORA.tv helps intelligent, engaged audiences get smart. We gather the web's largest collection of unmediated video drawn from live events, lectures, and debates going on all the time at the world's top universities, think tanks and conferences. We present this provocative, big-idea content for anyone to watch, interact with, and share --when, where, and how they want. FORA.tv was founded in 2005 and is funded by a select group of investors including William R. Hearst III and Adobe Ventures.
For more information, visit FORA.tv.
###