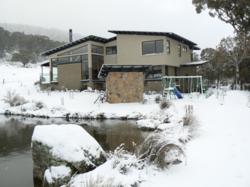 Forbes Stynes Real Estate chalks up a record $1.2million dollar sale in Lake Crackenback, adjacent to the Thredbo Real Estate area.
Sydney, New South Wales (PRWEB) April 12, 2012
Snowfield property specialists, Forbes Stynes Real Estate, have had over 10 years of experience selling premium Thredbo Real Estate properties as well as homes within the neighbouring snow country areas. Just this week they demonstrated why they're entrusted with the majority of local listings, after securing a record sale price for Lake Crackenback of $1.2million for a home with attached studio apartment.
"The previous highest price for Lake Crackenback was a shade under one million dollars, so we're delighted with this record settlement, particularly in what can be a quiet period for holiday style properties," exclaims Michelle Stynes, Principal.
"It's definitely a win-win situation. The vendor gets a great price and the buyer now has a beautiful home that's near the train to Perisher and has all the facilities they need close by. This can't be underestimated when you have a large family including 11 children!"
Hailing from Sydney, the buying family is just one of a growing number who are opting to do their homework online first to stay abreast of new listings, property sales and price changes.
As Ms Stynes explains, "After being on our email list for some time, the purchaser called to enquire further about this home. They remarked about how they'd been keeping a close eye on our website, noticed the reduced price and that provided the impetus to get in contact."
This comment underscores Forbes Stynes Real Estate's belief that a sophisticated and user-friendly website far outweighs the traditional 'window display' approach when it comes to their catchment area which includes the ever popular Thredbo Real Estate area as well as Lake Crackenback.
"The clients who are looking to buy into this resort area don't live here, so it's an absolute necessity that we have a comprehensive online presence that allows them to do their homework before making the trip," says Ms. Stynes.
"In fact just like this particular purchaser, over eighty per cent of our clients reside in Sydney which is a 5 hour drive if you get a good run out of the city!"
Their website easily guides visitors to information on properties available, as well as professional photos, floor plans and virtual tours.
Potential buyers can hone in on the area, price range and number of bedrooms they are seeking, whether they are looking to enjoy the laid back nature of Lake Crackenback lifestyle, the village atmosphere of Thredbo Real Estate, or the equalily popular areas of Perisher, Jindabyne or Apline Way.
For more information about the property market in the New South Wales Snowy Mountains, visit http://www.fsre.com.au
About Forbes Stynes Real Estate
The Forbes Stynes Real Estate team draws on over 10 years experience and takes a modern and innovative approach to providing customers with premium mountain real estate opportunities within the Thredbo, Perisher, Lake Crackenback, Alpine Way and Jindabyne locales.
In addition to a centrally located office within the snow fields, Forbes Stynes Real Estate offers a highly sophisticated and user-friendly online environment in which potential buyers and sellers can find a complete view of the local property market and assist them to make the right decision.