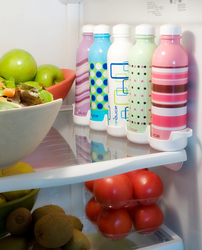 We're thrilled to be included in the top 20 of the Forbes.com 'Boost Your Business' contest
Atlanta, GA (PRWEB) August 18, 2009
Base Brands™, a young Atlanta-based housewares company known for its Reduce™ Eco-friendly housewares line, has been selected as a top 20 semifinalist in the 2009 Forbes.com "Boost Your Business" $100,000 entrepreneurial contest. Out of over 1000 entries, Base Brands is one of only two Georgia companies to be included in the top 20.
To advance to the top 5, the 20 entrepreneurs are required to submit a 30-second video and will rely on online voters to go to http://www.forbes.com/entrepreneurs/boostyourbusiness/ and vote for their favorite entrepreneur beginning August 17 through September 30, 2009. The top five winners will then go to New York and present a more detailed business plan in front of a Forbes.com panel of judges.
Base Brands appealed to the judges because the company invents eco-friendly and practical products that provide simple solutions for everyday activities. Their Reduce™ environmentally-friendly product line makes it a little bit easier for consumers to live a more "green" lifestyle. The Reduce™ WaterWeek™ five-bottle set is a simple solution to the problem of wasteful disposable plastic water bottles. The set fits in a fridge shelf tray, making it convenient for consumers to grab a water on their way out the door, to work, school or play. By not buying disposable water bottles, consumers are saving landfills from needless waste and saving money as well--close to $500 a year.
"We're thrilled to be included in the top 20 of the Forbes.com 'Boost Your Business' contest," said Ken Kreafle, CEO and founder of Base Brands. "We're passionate about creating products that solve everyday problems and don't harm our environment, and we're honored that the judges recognize this. If we win, the $100,000 will help us invent even more eco-friendly products," continued Kreafle.
About Base Brands
Founded in Atlanta in 2005, Base Brands (http://www.basebrands.com) is a fast growing company that invents creative, practical products to make life easier for a variety of consumer lifestyles. Including innovative and eco-friendly homeware, kitchenware, food storage containers and pet gear, the company's inventions continuously challenge category standards with solutions that fill distinct unmet consumer needs. A prime example is the popular Reduce™ WaterWeek™ line of attractive refillable water bottles that sits in a handy shelf tray designed to promote grab-and-go consumption and eliminate the need for wasteful disposable water bottles. Other brands include TANK™, a line of rugged, insulated mugs and containers, and Pet Trek™, a line of convenience gear for active pets and their owners. For more information, visit http://www.basebrands.com or call (404) 733-5454.
About Forbes.com
Forbes.com (http://www.forbes.com), home page for the world's business leaders and the No. 1 business news source in the world, is among the most trusted resources for senior business executives, providing them the real-time reporting, uncompromising commentary, concise analysis, relevant tools and community they need to succeed at work, profit from investing and have fun with the rewards of winning. Throughout the business day Forbes.com publishes more than 4,000 articles, delivering the best of Forbes journalism and that of its selected partners with all the immediacy, depth and interactivity that the Web allows. Forbes.com is part of Forbes Digital, a division of Forbes Media LLC. Forbes.com and affiliated properties - ForbesTraveler.com, Investopedia.com, RealClearPolitics.com, RealClearMarkets.com, RealClearSports.com, and the Forbes.com Business and Finance Blog Network - together reach nearly 40 million business decision makers each month.
# # #