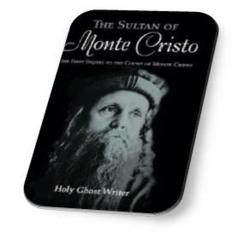 If we don't stand up for ourselves, things will never change.
ISLAMABAD, Pakistan (PRWEB) August 10, 2012
The Holy Ghost Writer's book, The Sultan of Monte Cristo, is quickly spreading in the Middle East and is secretly being used to replace the Koran as a new guide among victims of forced marriages. There is concern that a death warrant may soon be issued similar to the one issued years ago for the life of author Salman Rushdie in reaction to his novel, 'The Satanic Verses', which was seen as being anti-Islamic. US readers have speculated that may be the real reason for a ghostly pseudonymous moniker, as no one has yet to identify the Holy Ghost Writer. However, the book's introduction claims the author's identity is part of the plot in subsequent sequels.
The 22-yr old Pakistani woman, who declined to reveal her identity for fear of her life, said after reading the book, "My eyes were opened to infinite possibilities and how personal sovereignty and the right to choose is not a privilege but a human right." She went on to say, "Raymee does not sit on the sideline. She is strong, courageous and independent. And although she knows it is tradition to honor thy family, she will do so on her own terms... what makes her happy. If we don't stand up for ourselves and become creative like Raymee, things will never change."
Honor killings, or brutal murders, are common in the Middle East, specifically Pakistan where women are killed by their parents, siblings or other family members when they have disgraced the family name by marrying someone not of their choosing. Every day, Muslim women, victims of torture and forced marriages are crying out for help. The Human Rights Commission of Pakistan said at least 943 women were killed in 2011 for 'damaging' their family name. The death toll is much higher than that though because most cases go unreported.
One prominent reason Pakistani women have latched on to the Sultan of Monte Cristo is because other media, such as their local newspapers and TV programs, provide no backup or help for the victims. An anonymous source said, "The media practices 'checkbook journalism' and money outweighs morality in Pakistan." According to the website, SayNoToViolence.org, forced marriages are at a peak due to Pakistani and Islamic sharia laws. It says, "There is no law for those persons, who force the girls to marry on their parents' and other family members' choice. These parents often give threats, like 'kill her', 'behead her', (and torture... innocent girls) if she refuses forced marriage."
Raymee, the new character in this sequel to the Count of Monte Cristo by Alexandre Dumas, touches upon this cultural sensitivity. Raymee recognizes this horrid tradition but creatively discovers ways to subtly overcome it by demonstrating a strong sense of independence. It seems she found some of her wisdom from her father reading the Count of Monte Cristo to her in a desert oasis. For example, Raymee says, "Yes, father I will, but before he can force himself on me I will escape to a land where women are free" when replying to her father's question of, "...will you marry the Caliph for the welfare of your family?" After her father tells her she will dishonor her family, she boldly says, "Yet, father, you will dishonor me by selling me for much needed supplies."
On the other hand, the book's hero, the Sultan of Monte Cristo, albeit fictional, is admired by some Islamic men. His actions in the book have particularly influenced one Pakistani man, with 2 wives, who confidentially revealed that he is now encouraging his wives to become entrepreneurs after reading that the Sultan himself allowed his wives to start and operate their own businesses. "Before my youngest wife pestered me to read the Sultan of Monte Cristo, I never thought such a thing would remotely be pursued or accepted. It was bizarre but liberating. Now, I want my wives to be just like Mercedes and Haydee. Allah forbid they be anything like Raymee!"
The Count of Monte Cristo, morphs into the Sultan of Albania in the book after he restores Ali Pasha's daughter, Haydee, a Muslim, to power as the Sultana of the Sultanate of Albania. He takes on the lengthy name, Sultan Sinbad Zahfan al Jihad Ghaffar bin Taqwa din Nushur Buri al Mahdee, making it easier for Muslims to fall in love with the ever evolving Count of Monte Cristo.
Suffice to say, many Pakistanis are up in arms over the book and have been trying to ban it before more women read it. The Holy Ghost Writer could not be located to comment on the influence his book is having on Pakistani women and men. Will the Pakistani government have the nerve to ban such a book for fear of appearing to support forced marriages?