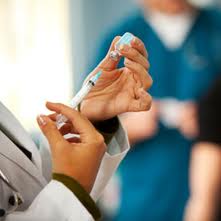 Our office looked like a ghost town last November.
Anchorage, Alaska (PRWEB) January 23, 2013
Lynne Curry, Ph.D., SPHR (CEO of The Growth Company, Inc.) has over 30 years of HR management experience and is sure to stay up on the latest rules and regulations. With this past flu season causing the domino effect in the workplace, Lynne has been receiving several questions on how to deal with this at work and if employers can force employees to get flu shots—today Dr. Curry responds to these clients.
One client wrote in: "Our office looked like a ghost town last November. A couple employees came to work with the flu and before the month was over nearly every employee had caught it. This morning "Robert" showed up looking like death warmed over. He's been coughing non-stop and working on the same report all day. As far as I can tell, he'd have done our company more good staying home because he's probably making everyone else sick.
I talked to him about taking the day off, but he said he's out of paid sick leave and so I backed off. Can I make him home stay tomorrow? And can I require everyone to get a flu shot?"
Dr. Curry initiates her response by announcing, "Last week, the Center for Disease Control officially declared this year's flu outbreak an epidemic. This means employers can expect a worse flu season than in the fall of 2011 through the spring of 2012 when U.S. employers lost more than one hundred million workdays and $10 billion in productivity."
Dr. Curry goes on to say, "If Robert is not able to work productively or poses a contagious health threat to others, you can require him to stay home or bring you a doctor's note stating he's not contagious. If you don't, you allow Robert to give himself a 75% pay raise as he completes two hours' work in eight and to compromise your other employees' health."
Dr. Curry continues, saying, "Although you can ask employees to get flu shots, the legal headaches involved in making them mandatory may not be worth it."
"In December, based on recommendations from the U.S. Centers for Diseases Control and Prevention, the American Medical Association and other major health agencies, Indiana's Goshen hospital mandated that all employees receive flu shots to protect hospital patients from a potentially deadly illness.
According to hospital management, the hospital decided they couldn't ignore the reality that patients with compromised immune systems had a greater risk for flu-related illness and death," adds Dr. Curry.
Dr. Curry says that, "Although four nurses requested exemptions based on personal and religious convictions, challenging their employer's right to put unwanted toxins into their bodies, hospital management denied their exemption requests and fired six nurses for refusing to get flu shots. Two other nurses quit to avoid the shots."
According to attorney Alan Phillips, who has worked with 150 health care workers in more than 25 states, the requirements many hospitals and other employers put into place violate federal law, specifically Title VII of the Civil Rights Act.
Also, notes attorney-turned-HR-consultant Rick Birdsall, "An employer that compels employees to take flu shots becomes potentially liable for side effects and perceived side effects."
According to attorney Phillips, the next step for these nurses who filed religious exemptions may be to file a complaint with the Equal Employment Opportunity Commission (EEOC). Attorney Edel Cuadra also notes that "employers who force employees to get flu shots can find themselves fighting legal challenges under the Americans with Disabilities Act Amendments Act (ADAAA)."
What can employers do to avoid flu ghost towns?
Says Dr. Curry, "They can encourage employees to get flu shots through education; employees who buy-in to the shots' protective value don't consider them invasive. Employers can host flu vaccination clinics, clearly indicating it's the employee's personal decision concerning whether or not to get the shot."
Dr. Curry continues, "As eighty percent of flu cases are spread by direct human contact and touching contaminated surfaces, employers and employees benefit when employers communicate basic flu prevention strategies from hand washing to cough etiquette and staying home during the flu's early feverish contagious stages."
"Finally," adds Dr. Curry, "because employees who drag themselves to work can be physically present without the ability to effectively work, employers can allow them to have guilt-free sick days, keeping themselves and their germs home."
Dr. Lynne Curry is a management/employee trainer and owner of the consulting firm The Growth Company Inc. Send your questions to her at lynne@thegrowthcompany.com. You can follow Lynne on Twitter @lynnecurry10 or through http://www.workplacecoachblog.com
© Lynne Curry, January 2013, http://www.thegrowthcompany.com