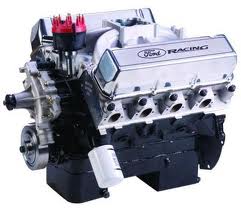 Over 300 horsepower in this 6.1L motor is one reason that it has become popular for those that replace motors.
Dallas, Texas (PRWEB) December 21, 2012
The CrateEnginesforSale.com company announces the addition to the online inventory of motors that are now offered. The Ford 370 big-block engine is now included for direct sale to online and offline buyers. This larger motor is designed for use in trucks and project vehicles that use the 370 variant. More information can be found at http://www.crateenginesforsale.com/ford-2/ford-370-bigblock-crate-engines.
The Ford Motor Company produced its 385 series of motors in the 1960s and the F-Series trucks were one of the first tests for this type. Over 300 horsepower in this 6.1L motor is one reason that it has become popular for those that replace motors.
The new addition to the company inventory of the 370 F-Series motor is expected to provide more options for buyers due to the shortage of finding these motors in original condition.
One of the differences between a used condition engine and one that is custom built is the warranty. Not all sellers warranty the sale or use of a preowned motor due to the high mileage that could be on the block. It is this mileage that could prevent the motor from performing for an extended period of time. The custom built engines that are now offered through the CrateEnginesforSale.com company are eligible for 3-year warranty coverage.
A new quote system is now added to the online search section of the company website. The 370 as well as other in stock Ford motors can be located and quoted in price entirely online. This new search and quote system is designed to help make it easier for customers to obtain pricing for in stock units. This is designed as an alternative to calling the toll free number provided during regular business hours.
The addition of the big-block engines is part of a continued effort to help build one of the largest crate motor inventories accessible online. This new addition is designed to coincide with the small-block Chevy addition that was added earlier this month. The news annoucement for this GM addition can be found at this link online http://www.prweb.com/releases/chevy-crate-engines/chevy-small-block-sale/prweb10244941.htm.
About Crate Engines for Sale
The Crate Engines for Sale company launched its newly designed website in 2012 and has a history of selling motors offline. The custom work that goes into building domestic and foreign engine variants allows customers that make purchases to benefit from the reliability that is created. This company now stocks a complete line of inventory and has expanded shipments into all 50 U.S. states. The Crate Engines for Sale company adds new pages to its website daily as new motors are acquired for direct sale to the public.