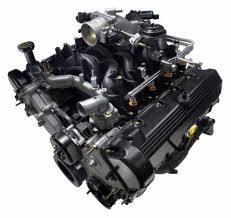 This addition of the Triton engine is part of a Ford Motor Company expansion to help deliver one of the largest inventories currently online.
Philadelphia, PA (PRWEB) December 06, 2012
The Engines for Sale Company announces its acquisition of the Ford 5.4 engine for online sales. This new motor has been purchased to assist pickup truck owners or SUV owners find a low mileage engine replacement. This addition of the Triton engine is part of a Ford Motor Company expansion to help deliver one of the largest inventories currently online of preowned engines. More information about this new inventory at http://enginesforsale.org/ford/ford-svt-lightning-engines-for-sale.
The Triton 5.4 engine by Ford was developed in the 1990s as a replacement for the phased out V6 and V8 series from the 1980s. This new development in the F150 pickup truck series helped Ford to increase its market share in the United States and Canada according to research.
While millions of these vehicles were sold, those that search for an engine to replace the Triton could be disadvantaged by the lack of available inventory found.
The EnginesforSale.org company has purchasing agreements in place with some of the top suppliers to the automotive industry that exclusively distribute OEM Ford motors. These new contracts have enabled this retailer to find some of the most requested engines by engine buyers for late model and classic motors. This new buying arrangement has helped to build a larger inventory for the Engines for Sale Company.
A preowned engine could have high or low mileage depending on the dealer that provides one. While high mileage engines could have internal quality issues, the lower mileage editions that have not reached the wear and tear point could be an upgrade for owners of a used vehicle.
The new contracts in place to purchase Ford inventory for the EnginesforSale.org company include the lowest mileage blocks currently available.
These new inventory acquisitions for the 5.4 engine and other popular editions manufactured by Ford are expected to help build the available inventory for online engine buyers. To go along with these changes, the EnginesforSale.org company is now shipping this inventory at no cost to buyers that purchase through the company website or by toll free number. This measure is helping to reduce the total cost paid for these preowned motors.
Daily inventory updates are now made online to help inform all customers of recent price changes, additions or deletions. Customers that use this resource to research or purchase current in stock inventory could benefit from these updates.
A recent news story published online about the acquisition of Chevrolet and Dodge preowned motors by EnginesforSale.org can be found at this link http://www.prweb.com/releases/engines-for-sale-company/expands-ford-chevy-dodge/prweb10036149.htm.
About Engines for Sale Co.
The Engines for Sale Co. launched its website online in May of 2012 and has expanded its entire inventory to meet the needs of motor buyers worldwide. This established retailer has successfully sold engines offline for decades and has moved a portion of its company online. The Engines for Sale Co. offers discounted pricing as well as incentives like free shipping to the 48 continental U.S. By staffing its company with engine experts and a talented freight team, the EnginesforSale.org company has been able to grow its based of preowned engine customers.