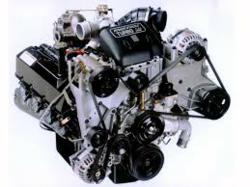 The newly dyno tested Powerstroke editions now sold online are offered for no increase in the sale price of each engine.
Beaumont, TX (PRWEB) April 05, 2013
The advancements made by Ford Motor Company in the 1990s resulted in the creation of the Powerstroke engine. While the original 7.3 is no longer in production, one company is now selling this series and testing it for buyers prior to shipment. The RemanufacturedEnginesforSale.com company is now dyno testing its Ford 7.3 diesel engine series for all buyers before shipment is made. This useful testing is one way now used to assure buyers of quality upon customer delivery. Pricing and warranty information can be found at http://remanufacturedenginesforsale.com/ford/ford-diesel-engines.
Ford created its famed 7.3 series with a partnership with Navistar International for engine development. The technologies used in the mid-1990s placed more emphasis on V6 motors in an effort to conserve fuel efficiency. The larger size of the Powerstroke 7.3 diesel helped the F-Series pickups and E-Series vans to provide alternatives to vehicle buyers. The newly dyno tested Powerstroke editions now sold online are offered for no increase in the sale price of each engine.
The RemanufacturedEnginesforSale.com dyno testing efforts are part of a company wide increase in higher customer standards. This company earned its reputation for selling quality engines to the trade industry and now sells directly online to the public. The decision to sell to non-trade industry buyers at the same discounts as trade industry companies has proven successful for the company this year. The reconditioned engines buyer network has been increased due to these efforts.
The new testing procedures and inventory upgrades has helped his company developing new warranty policy rolled out in 2013. It is this policy now helping to raise the quality and assurance for all buyers purchasing refurbished motors from this company. Instead of a benchmark 30-day warranty, a 36-month coverage period is now standard for warranty protection. This effort is one of the latest strategies used by this company to provide buyer alternatives to auction companies and private sellers.
About RemanufacturedEnginesforSale.com
The RemanufacturedEnginesforSale.com company rebuilds automobile, sport utility vehicle and pickup truck engines for buyers in North America. This company has earned his reputation as a leader in the refurbished engines industry. By providing OEM engines built for longevity, this company offers alternatives that are not found through other retailers selling secondary market engines. The RemanufacturedEnginesforSale.com company expedites all customer shipments on the same day that orders are processed for customers to ensure timely delivery to meet deadlines for customers.