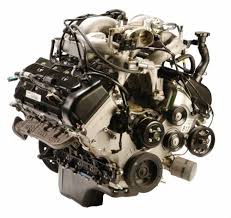 The Got Engines company resource now features individual pages that can be used for research for multiple engine types now listed in stock.
Austin, Texas (PRWEB) June 29, 2013
Ford Motor Company development for its V8 engine class has been one of its strong points during the production term of this automaker. The late model units that are produced for trucks and sport utility vehicles are producing a larger horsepower range for vehicle owners. The GotEngines.com company is now helping buyers to purchase larger V8 engines online. This company is now selling used Ford Expedition engines in 5.4 size online at http://www.gotengines.com/ford/ford-expedition-engines.html.
The offering of these motors in preowned condition is now designed to open up more resources for engine replacement to the public. The 5.4 series motors for the Expedition can be purchased by F150 and other compatible vehicle owners for the reduced prices now listed.
Trusted arrangements with secondary engine suppliers made these new additions to the online inventory possible in 2013. The Got Engines company resource now features individual pages that can be used for research for multiple engine types now listed in stock.
"Quotes can now be generated by our customers online," a source from the GotEngines.com company added. The introduction to this digital system online is providing alternative options to manual price processing that used to be required when engine quotes were generated. The use of digital technologies and database systems is expanding the consumer reach of this company.
"Prices are immediately displayed for any displacement engine in stock online," the source added. The system is providing a way for vehicle owners or other buyers to research current pricing at any time of the day.
The Ford expedition motors in the 5.4 V8 size now online are in addition to Chevrolet V8 engines that were recently added for online sale. The Silverado series of motors is now part of the current truck and SUV inventory.
A news release was published to inform the public at http://www.prweb.com/releases/chevy-silverado-engines/used-gm-engines/prweb10678831.htm about these V8 inclusions last month. This buildup of Ford and Chevrolet motors is increasing the amount of options that buyers currently have to locate preowned engines for lower than MSRP dealership pricing online.
A warranty program and freight incentive for buyers was included earlier this year and remains in place for each purchase. The two-year warranty policy and no charge freight inclusions are providing more value for consumers purchasing engines online compared with standard sales from auction companies or third party classified engine sellers.
About GotEngines.com
The GotEngines.com company is a leading resource for preowned automotive engines at lower than dealership prices online. This company is supplied by secondary industries that are able to source vintage and late model motors for direct sale to the public. The warranty policies put in place by GotEngines.com this year include parts protection for up to 24 months for the majority of inventory now sold. The sophisticated website design currently featured by this company includes an immediate quotes system and informative engine pages that are offered to the public.