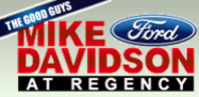 Jacksonville, FL (Vocus) June 14, 2010
Mike Davidson Ford is enthusiastically awaiting delivery of 2011's new models. The Jacksonville Ford Dealer is expecting increased profits as new car buyers are showing renewed confidence in domestic autos, banks are lending responsibly again, and Ford is pulling back the curtain on its redesigned models for 2011.
Ford's success in 2010 is being felt from the corporate offices in Dearborn, Michigan down to the franchised dealers like Mike Davidson Ford in Jacksonville. Ford Motor Co. posted first-quarter earnings of $2.1 billion in 2010. This marked Ford's fourth consecutive quarter of profitability; not since 2005 has the automaker posted a streak of such length. Searching for used trucks Jacksonville residents have to act fast before the new models arrive and begin tempting buyers with excellent new options and features.
For example Ford Expedition, Ford Explorer, and Ford Explorer Sport Trac now have Trailer Sway Control as a standard feature. With sway control now standard on new trucks Jacksonville's Good Guys are attracting boaters who desire added towing safety.
"We are in the midst of a near-record year in 2010 for both new and pre-owned sales. The new offerings from Ford have everyone here at the dealership buzzing with excitement that the strong showing will continue into 2011. The engineers have added features to many already great models that focus on safety and fuel economy."
Rob Henry, GM
Mike Davidson Ford
Ford as upgraded most of their product line and the new features represent an unwavering dedication to improving the value of already-beloved vehicles. The Ford Edge returns this year with increased fuel economy and the newly offered Limited interior trim that adds leather seats and brushed aluminum center console. The Focus gets a major safety upgrade with the addition of standard electronic stability control and antilock brakes. Remote keyless entry, power door locks, and the MyKey system are also standard.
The Ford Escape adds a slew of features to enhance safety and driver piece of mind. The automatic parallel parking system is now tweaked to perfection and the electronic power steering now has the ability to correct for wind and road grade. Also Ford has seamlessly integrated blind spot mirrors into the side-view mirrors for added safety. The Ford F-150 is also receives the upgraded trailer control and now has the option for the 3.5L EcoBoost engine that has made a splash in the Ford Taurus SHO the last year.
America's original muscle car the Ford Mustang will receive improvements like electronic power steering, improved aerodynamics and 6-speed manual and automatic transmissions being offered on a redesigned V6 powerplant. Ford says EPA fuel economy ratings for the automatic will be 19/30 MPG. The Shelby Mustang GT500 gets a power boost to 540hp and an aerodynamic makeover to improve engine cooling and increase downforce at high speeds. Like all Mustangs, the GT500 will be available in both coupe and convertible versions.
Finally it is rumored that some of Ford's overseas projects may be offered in North American Ford Dealers this model year. The Ford Fiesta has made a huge splash in Europe because its sporty feel and appearance is backed up fuel efficiency near 40MPG. Also the Ford C-Max is a small minivan that may make it to North American in 2012 and hopefully replicate the success of last years European-inspired Ford Transit Connect.
As the industry continues to recover drivers can expect Ford to stay on the leading edge of development, design and sales moving into the 2011 model year.
This release was written by Matthew Jorn, Editor-in-Chief of Jorn & Price Automotive Marketing. JP Automotive Marketing provides proven web marketing systems to franchised auto dealers across the country and can be reached toll-free at (866)319-4745 or online at jpautomotivemarketing.com
# # #