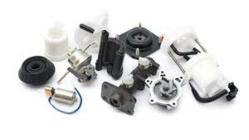 The acquisition of these parts is expected to create resources buyers have difficulty finding through traditional retailers.
Detroit, MI (PRWEB) May 10, 2013
Ford Motor Company is the second largest automaker in the United States and currently produces a range of pickup trucks that helps satisfy the demands of vehicle owners nationwide. Locating genuine parts for these pickups usually takes parts connections with suppliers and dealerships. The AutoProsUSA.com company has now added Ford OEM parts to its available inventory of auto parts sold online. The acquisition of these parts is expected to create resources buyers have difficulty finding through traditional retailers. The complete company inventory of OEM parts can be searched online at http://autoprosusa.com/superior-quality-ford-oem-parts.
The Ford and Lincoln brands have helped to introduce reliable pickup trucks for commercial and non-commercial use. The development of engines, transmissions and other internal components has helped to expand the technologies buyers now benefit from using Ford pickup trucks. The replacement cost for some parts can be difficult for buyers without a form of warranty protection.
The Auto Pros company OEM parts that are now for sale online include warranties for most parts that are sold or shipped by third parties. The attachment of this warranty protection is used to help more buyers benefit from installations that are protected from breakdown or other issues.
Purchasing parts on the Internet is one way some buyers find larger parts not sold in local areas. The distribution contacts set up by the AutoProsUSA.com this year is designed to make it easier for buyers to have parts shipped to any U.S. destination. All parts that are searched on the Internet and matched by the VIN number are expedited by trusted freight companies selected for accuracy.
This distribution now provided applies to online and telephone orders that are placed through the company ordering systems. The immediate auto parts price quotes offered online now help orders to be processed faster.
A new YouTube channel has been created by this company as an alternative marketing source. The company website now serves thousands of pages to interested buyers. Videos are now used as an alternative marketing tool to introduce new parts and provide helpful information normally provided in phone conversations. The new group of videos can now be viewed online at http://www.youtube.com/watch?v=jYY89lU4fLc. These videos are routinely updated when new parts are added. This new marketing source is helping to introduce the company inventory to more online buyers.
About AutoProsUSA.com
The AutoProsUSA.com company offers its low priced auto parts and accessories to buyers in North America. The complete inventory of parts available for sale can be searched using a dual method to provide more options for buyers. The company online search system has recently been updated and now serves hundreds of price quotes each day to buyers. The new company toll-free number provides immediate access to customer specialists able to explain parts conditions, warranty coverage and shipment options available. These AutoProsUSA.com incentives are exclusive to this company to help increase annual sales and provide a more trusted buying experience.