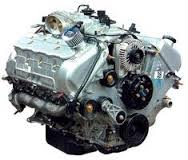 Our simple is now simpler than ever to use to find a preowned engine from most automakers selling vehicles in the U.S.
Columbus, Ohio (PRWEB) December 05, 2013
Auto parts production has increased in North America partly due to the amount of new vehicles that are now supplied. The Got Engines company is now helping consumers by removing the requirement of part numbers to find engine replacements through its system. This company has eliminated the Ford part numbers online and now relies on VIN matching to find engines for buyers.
One issue that a person can have when purchasing used automotive parts through a number of dealers is validation of part numbers. Not all used parts sold have viewable part numbers or other identifying marks that can help a person to know whether or not a part is authentic.
The elimination of the engine codes from the GotEngines.com search system online is the first in a series of changes this company is making to help improve parts research online. All users of the company research tools supplied online no longer need to enter engine part numbers to seek out a match in the company inventory.
"Our simple is now simpler than ever to use to find a preowned engine from most automakers selling vehicles in the U.S.," a salesman at the Got Engines company said.
The inventory of Ford automotive engines that is carried by the Got Engines company has been enhanced with more units throughout this year for buyers. A recent price reduction sale for all V6 and V8 editions in stock was announced. The prices for this ongoing sale are viewable in the warehouse inventory search system online.
"Not having the right part number will not prevent a person from buying an engine through our resource," the salesman added.
This change to the way that engines are located through the GotEngines.com website is directly expected to affect the amount of motors distributed in the U.S. this year. The current sale prices mixed with the shipment programs for domestic buyers are scheduled to remain throughout the close of the coming year.
About GotEngines.com
The GotEngines.com company offers one of the easiest to research database systems for locating used automotive engines available. The company inventory updates include price drops and other consumer incentives that are created by company management. The used engines listed for sale online are shipped nationally at reduced prices to buyers. The GotEngines.com company includes warranty information, shipment details and other information that is specific to owning an engine with each purchase processed online. Customer service solutions at this company are handled by a trained support staff.