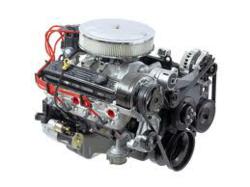 The 289, 350, 351 and 302 are now represented in the company inventory for sale.
Seattle, Washington (PRWEB) February 09, 2013
General Motors was one of the first companies to sell its engines directly to the public. The GM performance engines included the Vortec base in V6 and V8 sizes. Ford now produces performance engines that are made available for sale to car owners and installation companies replacing motors in classic and current vehicles. The CrateEnginesforSale.com company is now selling these Ford performance engines for discount prices online and offline. More information about the inventory can be read online at http://www.crateenginesforsale.com/ford-2.
Many of the vehicles produced in 1962 through 1972 were named as muscle cars. Many of the motors were able to exceed 350 hp. This era in automotive manufacturing is now relived through the issuance of crate engines. Classic car restoration companies and project car builders depend on these replica engines to achieve OEM quality and performance. The performance motors now sold online include some of the most requested sizes. The 289, 350, 351 and 302 are now represented in the company inventory for sale.
The replacement motor industry includes professional and amateur builders. The rise in popularity of using aftermarket parts has helped to simplify the process of building a basic engine. New tools, technology and equipment is now used by professional companies during the construction of performance engines.
One of the ways the CrateEnginesforSale.com company is providing extra value is with the use of calibration tools and equipment. The Ford motors and other motors now in stock go through separate rounds of testing to measure and compare operational data.
Aside from the performance Ford and GM inventories, sales to the public have been added to the new crate motor inventory at this company. This inventory is the basic replacement sizes and are most often used inside the most common trucks, cars and SUVs. The recent announcement of this offering to the public can be read on the Internet at this link http://www.newson6.com/story/20944566/crate-engines-for-sale-co-now-supplies-new-crate-engines-to-the-public-online-at-crateenginesforsalecom.
These changes in crate inventory are now matched with a complete coverage protection policy. Because all company inventory is custom built, warranties are now included in an effort to provide assurance that the labor and the OEM parts applications are genuine. This breakdown coverage is provided for a three-year period after purchase. It is this company warranty that is usually not included with sales originating from auction websites or some third party sellers.
About Crate Engines for Sale Co.
The Crate Engines for Sale Co. offers is custom built Ford, Chevrolet, Pontiac, Dodge, Jeep, Honda, Toyota and other motors for sale to individuals and companies at discounted prices. Through a same day shipping policy, this company is able to remove typical delays found in the engine industry. Installation deadlines can now be eliminated with the help of this new policy. The Crate Engines for Sale Co. now provides generous warranty protection for all builds that are sold to the public and to the trade industry. All tests performed on engines sold by this company are offered at no charge.