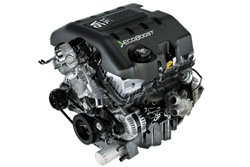 We have been able to establish our company as a second hand supplier of Ford Motor Company components in the past, and we are now expanding our parts inventory to include V6 blocks
Seattle, WA (PRWEB) August 30, 2015
Ford remains one of the top two successful American automotive companies annually due partly to its innovations in engine technology. The CarPartsLocator.com company has updated its web inventory to feature used Ford replacement motors in V6 displacement. Adults who plan to buy parts this year can explore the current models shippable at http://www.carpartslocator.com/used-ford-motors-sale.
The replacement editions that have been added were removed from sedan, compact, SUV and pickup truck vehicles through dismantling companies in North America. The 6-cylinder editions have been double checked for VIN numbers and other block stamps in order to offer an accurate inventory to the public.
"We have been able to establish our company as a second hand supplier of Ford Motor Company components in the past, and we are now expanding our parts inventory to include V6 blocks," a sales expert at the CarPartsLocator.com company said.
The entry of I6 replacement blocks in the Ford division of the CPL website is one way that customer support has been improved over the past 12 months. By bringing on additional regional suppliers, the CPL company has increased its stock of compatible automatic and manual transmissions that have been verified to work with the added 6-cylinder OEM blocks.
"Our goal is to become the go-to provider of secondary market automobile parts for major U.S. brands, and we are on track to complete this goal by next year," the sales expert added.
The Car Parts Locator website has been revised to feature the customer service and ordering line that customers can use offline. The number at (989) 891-9212 has been activated to distribute price quotations and other data a consumer might request.
About CarPartsLocator.com
The CarPartsLocator.com company is a North American market leader that consumers use to locate replacement vehicle components produced within the past 30 years. The CarPartsLocator.com company has a revised database platform that the public uses daily for reviewing pricing and warranty information for millions of components in stock.