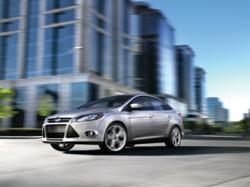 These are some of the best incentives of the year
San Leandro, CA (Vocus/PRWEB) July 18, 2011
The Ford Store in San Leandro is celebrating the "Best Place to Be" sales event. They are celebrating this event because The Ford Store is truly the place to be during the month of July because Ford Motor Company is offering the best in class in all major categories, such as quality, gas miles per gallon and technology that can't be touched by other automakers. The event is ongoing until July 31.
The Ford Store is proud to celebrate the 'Best Place to Be" sales event because we can offer some great incentives to our loyal customers and introduce new customers into the fine line of Ford certified vehicles," said Phillip Baltazar of the Ford Store. "We can offer up to $1000 trade-in allowance on selected Fords and zero percent financing is available on selected Ford Models."
Some of the highlighted cars offered by The Ford Store are the new Ford Focus, the sought-after newly designed Explorer and the Ecoboost F150. Each of these vehicles has great gas mileage and comes with the industry leading technology features, including the revolutionary Ford Sync which can allow every driver hands-free control of their cell phone, MP3 player and other media devices.
"These are some of the best incentives of the year," said Baltazar. "Just like the weather, Ford is hot and you don't want to miss out!"
For more information about the fine Ford Motor Company products and services at The Ford Store, call 510-352-2000 or visit http://www.forddealereastbay.com.
About The Ford Store
Since 1991, The Ford Store of San Leandro has been the best choice for everything Ford in the East Bay. A merger with Hayward Ford in 2008 further solidified The Ford Store of San Leandro's position as the premier Ford dealer and best used Ford dealer in the Bay Area. We are dedicated to offering our customers with the best new and used Ford cars, trucks, and SUVs, all while making sure our customers are satisfied with their experience. The provide the finest Ford certified vehicles, the best used cars and used Ford trucks in East Bay and Bay Area.
###