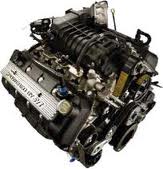 The preowned market is one way that buyers find affordable engines.
Hartford, Connecticut (PRWEB) December 28, 2012
The NewEnginesforSale.com company has acquired one of the most popular Ford Motor Company engines in V8 size for sale online. This new Ford SVT 5.4 Lightning engine is part of the F-Series brand and is now sold to truck owners online. Those that purchase replacement motors or that plan to resell to a third party could benefit from browsing the new company inventory located at
http://www.newenginesforsale.com/ford/ford-svt-54l-lightning-engines-sale.
The Ford F150 is one of the styles of pickup trucks that has helped to boost the annual sales in the U.S. Apart from company slogans and marketing programs, the F150 has earned consumer confidence and many of the engines used in these vehicles have made best seller lists for quality according to research.
The new addition online of this motor series is expected to affect owners of this pickup style and mechanics, salvage yards and other companies that buy strictly for replacement.
The preowned market is one way that buyers find affordable engines. These are generaly high mileage units that have been removed from working vehicles. One of the drawbacks to purchasing preowned is the lack of warranty protection that can be offered. Engines that have excessive wear and tear could turn out to be less reliable compared with one that is new or rebuilt. The NewEnginesforSale.com company offers its new editions for pricing that is less than what dealerships charge for a comparable unit.
The new company inventory is now searchable through a new search tool created for online use. This tool makes it easy to locate engines by manufacturer to help speed up the process for those performing research. This new innovation was integrated earlier this year along with a brand new virtual quote system. These tools can now be used to locate the in stock inventory and price distribution is displayed entirely online. These tools can be accessed at http://www.newenginesforsale.com/blog.
A new 3-year parts warranty that covers the OEM components as well as the labor used for install is now covered. This new warranty is offered with unlimited mileage to ensure that buyers of the Ford series and other types in stock receive uninterrupted engine performance.
About New Engines for Sale
The New Engines for Sale company launched its website in early 2012 and has fulfilled the needs of auto industry companies for decades offline. The inventory that is offered through this retailer is in new condition and is warranted for 36 months against wear and tear. A complete stock of Ford, Chevrolet, GMC, Chrysler, Jeep, Isuzu and other import variants are located inside the main company warehouse for direct shipment inside the U.S. and Canada. The New Engines for Sale company provides online and offline ordering of its motors in stock to help expedite delivery to meet installation deadlines.