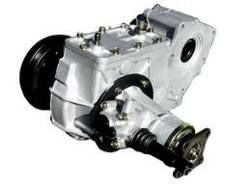 The additions of the aftermarket parts now online is helping to expand the buying options available on the Internet.
Midland, TX (PRWEB) April 19, 2013
A large percentage of some of the most successful vehicles include Ford 4x4 editions. The multiple engine types used in these vehicles works in combination with the transfer case to complete the drive train system. The TransferCasesforSale.com company has now added aftermarket Ford transfer cases for direct sale online. These case assemblies are now available for shipment at http://transfercasesforsale.com/transfer-cases.
Aftermarket auto parts are one replacement option that buyers can depend upon when parts failure happens. The direct licensing agreements that automakers have with third party companies helps to expand the aftermarket auto industry.
Since many Ford vehicles are now considered classics, locating parts for the 4x4 system can prove challenging. The additions of the aftermarket parts now online are helping to expand the buying options available on the Internet.
The TransferCasesforSale.com company has relied upon used and rebuilt additions to build a larger network of buyers in North America. This company was one of the first to provide reconditioned transfer cases for import automakers online.
Recent additions to this portion of the company parts inventory for sale have helped expand the makes and models now produced worldwide. The new price structure announced recently for import units now sold remains in effect and is one incentive buyers can use when completing a purchase.
The cost to ship a transfer case from one coast to another continues to rise as freight companies adjust pricing. Freight agreements for North American delivery have been expanded by the TransferCasesforSale.com company this year. A recent announcement of the expansion of a free shipment program was made to alert the public of the successful incentive this year.
The news announcement at http://www.prweb.com/releases/transfer-case/transfer-cases-for-sale/prweb10218766.htm includes information about the future availability of the free shipping offer.
About TransferCasesforSale.com
The TransferCasesforSale.com company provides its used, rebuilt and aftermarket case assemblies for discounted prices to all buyers. This company closely monitors pricing and inventory levels to ensure buyers receive affordable pricing for each sale. The free shipping program created and extended at this company has helped increase sales this year compared with the same quarter last year. The TransferCasesforSale.com company updates its website frequently with new pages to help inform all buyers during the parts research process. This resource online is provided as one alternative to calling the company toll-free number.