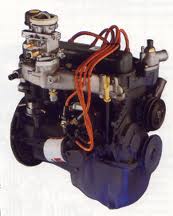 The complete industrial inventory of these Valencia motors can be browsed online at the company website.
Cleveland, Ohio (PRWEB) May 12, 2013
Industrial machinery production in the U.S. is supported in part by some U.S. automakers that supply motors in gasoline and diesel engine types. Ford Power Products distributes many of the motors that are used in light industrial applications. The http://www.dieselengines.co company is now supplying the remanufactured Ford VSG 413 series motors in four-cylinder configurations. These motors are rebuilt and provide the value that some buyers cannot find when purchasing a used unit from a retailer. The complete industrial inventory of these Valencia motors can be browsed online at the company website.
Industrial and agricultural use of gasoline and diesel engines helps to produce many of the goods that are used in North America. From tractors to generators, these motors help to supply the power levels required to companies and individuals producing goods resold to the public.
The Diesel Engines Co. is a leading rebuilder of automobile engines and has added the Ford industrial units to expand its current offerings. These motors are refurbished by engine specialists and now sold at some of the lowest prices found on the secondary engines market.
New ways to quote prices for engines in stock have been developed this year on the company website. The installation of a new web quote system is designed to help more buyers who acquire the information needed before a purchase is made. The one-click quote system that is now used to distribute pricing online remains one of the popular areas of the company website. Along with the pricing distributed, informative pages now exist for each motor type in stock to offer explanations about the quality and warranties that are offered to buyers.
The integration of industrial and agricultural motors for sale online is helping this company to establish more contacts in the business community. Apart from selling to the public, this company provides engines to trade industry buyers. The low mileage builds that are offered in the gasoline and diesel engine configurations are designed to provide the value and quality that a new engine provides without the traditionally high price attached. Updates to the company inventory are expected to be made as more units are rebuilt and offered for sale online.
About DieselEngines.co
The DieselEngines.co company rebuilds diesel motors and gasoline engines to offer affordable replacements in the automobile, industrial and agricultural industries. This company now supplies some of the lowest pricing that can be found through a secondary seller. The motors that are offered for sale come with warranties that provide protection up to 36 months after the date of purchase. These efforts along with the low pricing are responsible for increased company sales volume this year. The DieselEngines.co company has completed a website redesign this year to help streamline engine research, pricing and requests for information from engine buyers in North America.