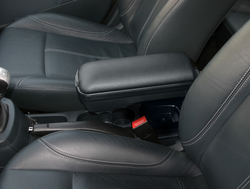 The armrest really solves the one missing piece of the hot new Fiesta in a manner that looks completely OEM.
Boulder, CO (PRWEB) May 18, 2010
Boomerang Enterprises, Inc. Introduces OEM Quality Armrest Accessory for 2011Ford Fiesta
Specialty automotive accessory manufacturer Boomerang Enterprises, Inc, has developed and launched a premium armrest accessory for the North American version of the Ford Fiesta that seamlessly integrates to the vehicle's interior.
Boulder, CO Boomerang Enterprises, Inc, a Boulder, Colorado based manufacturer of OEM and aftermarket automotive accessories, has just released an OEM quality folding center console armrest specifically designed for both the hatch-back and sedan models of the 2011 North American Ford Fiesta.
Boomerang has brought additional comfort, convenience and functionality to the 2011 Ford Fiesta via a folding armrest that delivers the benefit of added storage and a convenient retractable built-in cup holder that is suitable for either the driver or front seat passenger. Chris Fischer, Boomerang's president states, "We are pleased to have designed an ergonomic center console armrest that provides the essential finishing touch to the interior of the Fiesta."
Boomerang stands behind the Fiesta armrest with a 3 year warranty. Boomerang made no compromises when it came to the design and sturdy construction of the product. "We engineered the unit to withstand up to 300 lbs. We recognize that in the real world people lean on armrests when getting in and out of their vehicle, that children and pets use them as a step from the backseat to the front seat," suggests Fischer. While Boomerang obviously does not recommend standing on the unit, Fischer commented, "It was designed to hold up to a certain amount of abuse."
The structural integrity of the Boomerang armrest is unparalleled due to its all metal internal frame and mounting bracket. The unit does not attach to the plastic center console like many other aftermarket armrests, but instead installs to a factory mounted steel bracket that is hidden underneath the center console. As a result, the armrest installs in minutes and is totally stable and secure. The ABS injection molded trim is perfectly matched to the existing center console in both color and texture and appears to be an original equipment feature in the vehicle.
Jim White, General Manager,Phil Long's Chapel Hills Ford, observed: "The Boomerang Fiesta armrest is an unusually high quality unit for an aftermarket accessory. It really solves the one missing piece of the hot new Fiesta in a manner that looks completely OEM."
The Fiesta Center Console Armrest with cup holder by Boomerang will be available at participating Ford dealerships in the US and Canada. It is currently available for all 2011 North American production Ford Fiesta interior colors: Charcoal Black, Cashmere and Plum.
For more information please visit http://www.FiestaArmrest.com or contact Boomerang directly at (888) 521-6372.
About Boomerang Enterprises, Inc.
Boomerang Enterprises, Inc. located in Boulder, Colorado, was founded in 1995. The company is an ISO 9001 certified manufacturer of quality OEM and aftermarket automotive accessories.
Media Contact:
Chris Fischer
303-447-0902
###