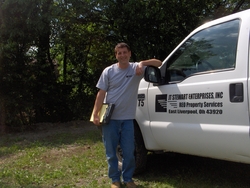 This is no get-rich-quick scheme... but a get-rich-with-hard-work www.cleanoutforeclosures.com [business opportunity] with a built-in demand
East Liverpool, OH (PRWEB) December 2, 2008
The crisis in foreclosed homes has created a lucrative new business opportunity for those looking to break into a rapidly growing foreclosure cleanout industry, says J T Stewart, author of the recently published "Make Money Cleaning Out and Maintaining Foreclosures," and president of J T Stewart Enterprises Inc.
Released August 1, 2008, his 184-page manual is the culmination of a two-year writing project inspired by the lack of information or training available for those wanting to get into the foreclosure cleanout business.
"This is no get-rich-quick scheme... but a get-rich-with-hard-work business opportunity with a built-in demand," says Stewart. "I can show you exactly how to tap into this relatively unknown and emerging trend in the housing market. With the economy slowing and the sub-prime meltdown still brewing, the foreclosure rates all over the country are higher than ever. The opportunity to make money cleaning out and maintaining foreclosed properties for banks, lenders and real estate companies is a growing industry on a coast-to-coast basis. You can advance quickly to making big profits starting out with very little or no money. In markets where there's a high rate of foreclosures, $60k a year (even for a part-time business) is typical."
Stewart, a full service property preservation contractor who has been in the business for the past 10 years, has been making his living by cleaning out thousands and thousands of foreclosed homes and has already created his own business and professional foreclosure-cleanout program from the ground up. In his new manual he details how you can do this as well.
His manual and start-up package includes the extensive start-up manual and nine ready-to-use documents on CD and details how to start the business with very little money. It goes step-by-step through every aspect of the business from re-key to winterization and trashout to lawn and landscaping. It also provides easy-to-use formulas for estimating and bidding on foreclosed homes. The coverage of Foreclosure language and how and where to get customers, are also important highlights.
For comprehensive information on "Make Money Cleaning Out and Maintaining Foreclosures" log on to http://www.cleanoutforeclosures.com or contact J T Stewart toll-free at 800-685-9670, Monday through Friday, 8 a.m. to 4 p.m. Eastern Time. Information on this business opportunity may also be requested via the internet by filling out a form on the company's Web site. He adds that once a cleanout business is launched the opportunities also expand to include more than just foreclosed homes.
About the author:
J T Stewart is the president of J T Stewart Enterprises, Inc. founded in 1992. The company is a full service property preservation and REO property services firm providing maintenance, eviction, and repair services to numerous customers in the banking, lending, and real estate field. The company has provided services in 24 counties in Ohio, West Virginia, and Pennsylvania for the past 10 years. Stewart's 20 years of experience in the construction and home maintenance field and five years as a consultant for the garbage industry coupled to give Stewart the perfect background to become a property preservation and maintenance contractor. The company currently employs 10 full time employees and has its principal offices located in East Liverpool, Ohio.
###