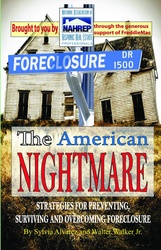 This book offers vital advice to distressed homeowners who may be unaware of all the options available to help avoid foreclosure. Don't assume your real estate agent knows all the rules
Washington, D.C. (PRWEB) September 24, 2008
A new book examines pre-foreclosure and short sales as options to help homeowners avoid foreclosure when they are in mortgage default and can no longer meet mortgage obligations. Authored by veteran housing counselors, Sylvia Alvarez and Walter Walker Jr., the book, titled "The American Nightmare", offers distressed homeowners valuable tips to help avoid, survive and overcome foreclosure.
The book includes a step-by-step analysis of the reasons people wind up in foreclosure, the obstacles they must overcome and the practical solutions available to them. Published in partnership with the National Association of Hispanic Real Estate Professionals (NAHREP), Free downloadable excerpts from "The American Nightmare" are available in English and Spanish at http://www.nahrep.org.
A link is also provided to purchase the book for $14.95.
Alvarez and Walker wrote the book to reach beyond the clients they could see in person as the number of homeowners across the nation in financial distress grew exponentially in 2008. The book offers practical advice the authors have delivered to thousands of distressed homeowners, many of whom were able to avoid foreclosure through their guidance. Free downloadable excerpts from the book offer homeowners advice on options to take if they are in default and considering pre-foreclosure or short sales as means to prevent foreclosure, including:

The difference between a pre-foreclosure sale and a short sale and when they are viable options for homeowners in default;
How to negotiate pre-foreclosure or short sales with your mortgage company;
Advice on conducting a Brokers Price Opinion (BPA) or Comparable Market Analysis with your REALTOR®;
Tips on navigating through the pre-foreclosure or short sale offers with your listing agent and mortgage company;
Checklist of vital documents to send your lender when asking for a short sale;
Warnings of illegal flip-for-profit scams encouraging short sales that defraud lenders;
Compromise offer option to cover the difference between sale proceeds and the mortgage balance for Veterans Administration pre-foreclosure sales.
"This book offers vital advice to distressed homeowners who may be unaware of all the options available to help avoid foreclosure. Don't assume your real estate agent knows all the rules," warns Rebecca Gallardo-Serrano, Chairman of NAHREP. "While your REALTOR® can be an invaluable ally during this process, they can also be the weakest link if they don't know what their responsibilities are to you and the mortgage company."
The National Association of Hispanic Real Estate Professionals, a non-profit 501c6 trade association, is dedicated to increasing the homeownership rate among Latinos by educating and empowering the real estate professionals that serve them. Based in Washington D.C., NAHREP is the premier trade organization for Hispanics and has more than 15,500 members in 48 states and 62 affiliate chapters.
###