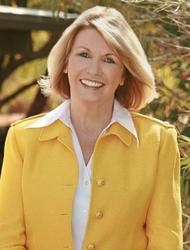 That means keeping an extensive directory for each lender with contact information and detailed instructions on how to interact with that lender.
Phoenix, AZ (PRWEB) July 10, 2009
Scottsdale REALTOR® and Certified Distressed Property Expert (CDPE) Gayle Henderson shared her successful guidelines in working through the short sale maze in a recent panel discussion of industry leaders. The Taking Advantage of Government Short Sales Incentives panel, sponsored by Campbell Surveys, RE/MAX International, Bank of America and Wells Fargo attracted professionals nationwide hungry for the suggestions, counseling and future predictions about the short sale process.
The expert panel included Kimberly Dawson, Vice President -Group Operations Manager, Foreclosure and Real Estate Management- Bank of America, Joe Ohayon, Vice President Community and Client Relations, Default and Retention Operations, Wells Fargo Home Mortgage, Tom Popik, Director Mortgage Research- Campbell Surveys and Gayle Henderson, CDPE, REALTOR, RE/MAX Excalibur Realty.
The two hour conference included a question and answer session from an industry audience seeking information on how to streamline the process of short sales. Discussions also addressed how to keep buyers and sellers engaged in the process, how to manage expectations of all parties involved, and what the future looks like for the short sale timeline.
"The short sale process requires an understanding of the specific guidelines and criteria of each lender you work with," said Henderson. "That means keeping an extensive directory for each lender with contact information and detailed instructions on how to interact with that lender."
Henderson stresses that it's not practical to assume that there will be one system that fits all lenders in the short sale process. Therefore, it is up to the REALTOR to master the different lender's guidelines and become the expert, through training such as that offered by the Distressed Property Institute. By earning a CDPE designation, REALTORS can better represent clients who may be in a difficult financial situation.
Although the average lender response time is about nine weeks, lender representatives on the audio conference expressed commitment to shortening the timeline from short sale submission to lender approval of the sale. Even if standardized procedures are adopted, lenders say the biggest challenge involves "non-delegated" files, which are those that require third party approval. Such approval can add days and sometimes weeks onto the short sale process.
Presenting a comprehensive short sale package was the single most important factor identified by both Wells Fargo and Bank of America panelists. Currently, it takes an average of three buyer contract approvals before actually arriving at the final closing table. Frequently the approval of the first or even the second buyer comes long after that buyer has lost interest and bought another property.
Henderson firmly believes that if lenders were to start requiring an earnest deposit and open escrow on every contract before being reviewed by a lender, a substantial number of contracts that have no chance of closing would be instantly cleared out of the system and the process would have almost an immediate timeline correction.
A short sale can be a very beneficial option to those facing foreclosure. The commitment of lenders, regulatory bodies and real estate agents well-trained in the short sale process will certainly promote a quicker stabilization of the housing market.
RE/MAX Excalibur is a leading company world-wide within the RE/MAX family of companies. Howard Lein began the Scottsdale Company in 1988 and currently has three offices in Scottsdale and one in Chandler. RE/MAX Excalibur is among the most honored real estate companies in the world having received several national and international awards. Howard Lein was named "RE/MAX International Owner/Broker of the Year" world wide in 2008.
Contact:
Gayle Henderson, PC, CRS, GRI, CLHMS, CDPE
RE/MAX Excalibur Realty
602-850-4335 (Direct)
Gayle (at) AZMovingPlan.com
###