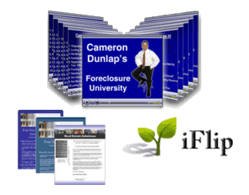 This is a amazing software. The software is like having another investor do all the hard work
Salt Lake City, UT (PRWEB) October 06, 2012
New foreclosure software is turning heads and making headlines as investors turn to this revolutionary new software to help them automate the foreclosure investing process. This is one of the most powerful, hands off, business management systems around. Created specifically for real estate investors who want to automate the investing process.
There are two big challenges that many investors face when investing in foreclosures. One of the challenges is having the money to fund the deal once the deal is found. The other is finding a qualified buyer and not getting stuck with the property. These two challenges force many investors to give up and quit the foreclosure business.
Another challenge for those who are just getting started is finding the deals. Most of the time new investors can't spend full time investing until they can replace their income, so it's really a part time business at first. Being part time, it's takes longer to succeed because less time is spent finding the deals.
Now there is new foreclosure software that helps investors in all of these areas. It's called iFlip and helps to automate much of the busy work so even beginning investors can see results quicker. The software helps investors leverage bird dogs or individuals who find and send deals directly to the investor.
Not only does it automate the finding process, it contains within it a current list of nationwide buyers. The software allows investors to build their own buyers list as well as take advantage of the current buyers list. It also manages all the deals so investors do lose track of properties they are working on.
"This is a amazing software. The software is like having another investor do all the hard work," says Jarad of Foreclosure University.
Robert Morrow says, "This system is Awesome! I have almost 40 bird dogs, 4 buyers and 3 properties already submitted. And all this in just 1 week of implementing."
Right now, Foreclosure University is running a free trial of the foreclosure software for any investor who would like to test it out. For more information visit http://www.ForeclosureUniversity.com
For those wanting to test drive the most powerful, hands off business management system, visit the official website.