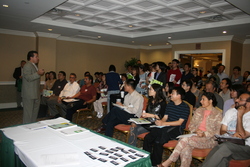 We could see some of the best buying opportunities over the next 2-3 years, than any other time, in real estate history
Irvine, CA (PRWEB) June 28, 2008
Fred Solomon teaches people through live workshops/bootcamps: Incredible Opportunities on How to Profit in Foreclosures, REO's, Short Sales and Auction Properties.
"With the Southern California Population expected to grow by approximately 3.5 million people over the next 10 years, we will continue to see an increase in rental rates and housing prices over time, says Fred Solomon. The three main indicators that determine home prices are: population growth, people's income levels and the unemployment rate." Twenty years from now, people may look back and ask, 'Why didn't I buy more properties back in 2008, 2009 and 2010?'"
The fundamental rule of any investment is to buy low and sell high. "We could see some of the best buying opportunities over the next 2-3 years, than any other time, in real estate history," adds Solomon.
Fred Solomon of Solomon Financial along with expert guests are assisting investors and Realtors® (directly through workshops/bootcamps throughout the country) with incredible money making opportunities like no other in 1. Foreclosures, 2. REO's, 3. Short Sales, 4. Auction Properties, and 5. What Homeowners Need to Know in Today's Market. They are also assisting those who are upside down on their homes or can't afford their monthly mortgage payment and negotiating with those lenders to help reduce their monthly payments by doing what is known as a note modification, with over a 90% success rate.
Foreclosures are a hot topic today and present tremendous opportunities. We actually show investors how to get their offers accepted by the banks/lenders and help real estate agents do the same. The thing that frustrates the Investors the most is writing a lot of offers and not getting any of them accepted. This same holds true for the real estate agents who write those offers. That is exactly why we do these bootcamps.
For additional information on the news that is the subject of this press release contact Fred Solomon or visit http://www.freemoneyhour.com.
Fred Solomon as heard on CBS Radio, The Solomon Free Money Hour; is a public speaker on real estate, foreclosure and current mortgage/market trends; author of PUT YOUR MONEY WHERE YOUR HOUSE IS: The Truth About Real Estate & Real Estate Finance.
Also Contact:
Fred Solomon
Solomon Financial
800-811-7709
info@sfmdirect.com
###