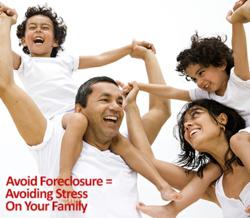 "If you're a parent facing foreclosure, remember to spend more time attending to your child's emotions. It is even more important than saving your physical home. Save your family. You can ease the transition best by being there for them." ~ Jenna Thuening
Minneapolis, Minnesota (PRWEB) April 18, 2013
When parents are struggling to keep the family in their home due to a home foreclosure notice, it translates to continuing emotional anguish for many homeowners, draining levels of strength and time to care for their children well. RealtyTrac newly released figures show that while foreclosure numbers are improving, the emotional impacts of foreclosure on children and families is not.
"Many distressed homeowners seeking foreclosure help and solutions, find their nerves wear raw and nights run long with sleep deprived moments of worry, challenging loving parent to support their children's needs well. While the positives outweighed the negatives in the mix of housing news last week, a homeowners struggling to avoid foreclosure may have a hard time being buoyed up by the positives. They need support from their local communities." says Jenna Thuening, owner of Home Destination.
RealtyTrac, real estate experts in foreclosure properties, said overall U.S. foreclosure filings dropped 1% in March, a slight improvement over February's foreclosure numbers. However, that is a grand improvement over March 2012 home foreclosure numbers, plunging downard 23% from March of 2012.
RealtyTrac's report data highlights include:
1) Lower Numbers Of Bank Foreclosure Repossessions - Lenders repossessed 43,597 properties nationwide in March, the lowest since September 2007. U.S. bank repossessions (REOs) in March decreased 3 percent from February and were down 21 percent from a year ago.
2) Foreclosure Sales Not Allowed Before All Other Alternatives Are Considered - U.S. foreclosure starts increased 2 percent from February to March, the second straight monthly increase following three consecutive monthly decreases. There were a total of 73,113 foreclosure starts nationwide in March, still down 28 percent from a year ago.
3) Foreclosures Processes Are Taking Longer - Properties repossessed by lenders in the first quarter took an average of 477 days to complete the foreclosure process, up from 414 days in the previous quarter and a record high since RealtyTrac began tracking this metric in the first quarter of 2007. All states recording the lengthier time it takes to repossess a foreclosed home are non-judicial foreclosure states.
Home Destination highlights insights from 2009 IMPACTS OF FORECLOSURES ON FAMILIES AND COMMUNITIES Urban Institute study. Results indicate two particular population groups are more vulnerable to foreclosures emotional toll:
First, children are likely to be affected more deeply than adults by foreclosure impacts (e.g., being forced to move to a new neighborhood and school, loss of friendships, disruption in daily routines, stress within the family).
Secondly, seniors are particularly vulnerable; financial, physical, and emotional traumas may result from major disruptions a foreclosure introduces into daily life. Overly stressed seniors in foreclosure have less ability to meet youthful victims' foreclosure stress needs in the same family.
How Home Destination Sees Brookings Summing Up The Emotional Tolls Of Foreclosure On Children:

The stark reality is that families receiving foreclosure notices have no choice but to move than other families. Even apart from foreclosure, the study shows that children who move frequently do less well in school.
Foreclosure notices bring financial and psychological stress on families trying desperately just to stay in their house; then add the pressure of finding a new home if forced out. Parents under high levels of financial distress sometimes are harsher and less supportive while parenting, which bears the fruit of amplified negative behaviors in children, which spirals further by multiplying peer challenges during social interactions at school.
Brookings says, "foreclosures and housing instability have a negative impact on physical as well as mental health, with studies finding higher rates of non-elective visits to emergency rooms and hospitals in ZIP codes with the highest foreclosure rates, as well as a strong association between housing instability and postponement of needed health care visits and necessary medications".
Housing data shows that foreclosures are often highly concentrated in specific housing districts, impacting children living in or near foreclosed homes who end up suffering the consequences of neighborhoods with higher vacancies, higher crime rates, and fewer supportive social systems.
Home Destination, a Minneapolis Certified Distressed Property Expert and professional Realtor with RE/MAX Results, offers guidance focused on bringing hope and best options to families caught in foreclosure. Understanding some effects of the enormous emotional toll that foreclosures may have on individuals, Home Destination and Minnesota place priority on helping families stay together whether they manage to successfully stay in their home or not. Call 612-396-7832 and ask for Jenna Thuening and gain help to stop foreclosure. Home and family are worth every effort to protect.