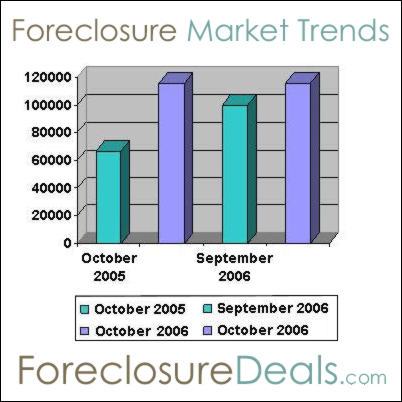 Homes on the market now range from small single-family residences all the way to mansions, in virtually every community. Even new homes and condos are available
N. MIAMI BEACH, FL (PRWEB) December 12, 2006
ForeclosureDeals has released its October 2006 U.S. Foreclosure Market Report, revealing that 115,568 real estate properties across the country were in foreclosure during October. This represents an increase of 42% over the same time last year and rise of 3% over foreclosure rates in September.
ForeclosureDeals.com , an online foreclosure listing service, has responded to current foreclosure trends by reorganizing and hiring new staff to deal with increased demand expected. ForeclosureDeals.com predicts that more customers will flock to the repossessed property market to take advantage of the deals available. "This may be the best time to buy any sort of distressed home," says a ForeclosureDeals.com representative. "More foreclosures mean that more people are looking for affordable properties and it also means great selection and prices on repossessed homes", say ForeclosureDeals.com staff.
"In the past, distressed homes sold for market price or near-market prices, but with more properties in the market, real bargains are available again," notes ForeclosureDeals.com. Investors, especially, can take advantage of the robust new market. Prices are low, meaning more equity on closing and so a larger profit margin. Additionally, more foreclosures give investors new options in real estate. Sellers may be more willing to work with investors and more willing to sell options as well as actual real estate. This can mean more flexible projects for investors.
Homebuyers, especially first-time homebuyers will also benefit from the news, say the representatives at ForeclosureDeals.com. Homebuyers can enjoy a larger selection. "Homes on the market now range from small single-family residences all the way to mansions, in virtually every community. Even new homes and condos are available," say the experts at ForeclosureDeals.com. With prices at 5%, 10%, even %60+ off market value, these homes offer great value for the cash-strapped buyer.
"What we are seeing now is the direct opposite of what has been taking place in recent years, when the number of high-end properties skyrocketed," say ForeclosureDeals.com staff. "Now, people are looking for - and finding - affordable homes that still offer great value," according to ForeclosureDeals.com. The new low prices can mean smaller down payments and simpler financing, as well. Buyers need to put down less money and invest in smaller mortgages, meaning savings upfront and over the term of a home loan. Savings of tens of thousands of dollars or even hundreds of thousands on larger homes, are possible. "With better value on their home - traditionally, the largest purchase a homeowner makes - homeowners have more money to invest or use, which prevents owners from becoming cash-poor and house-rich, a situation that often leads to bankruptcy," says a representative at ForeclosureDeals.com.
About ForeclosureDeals.com:
ForeclosureDeals.com is a leading foreclosure listing service. As a professional specialized real estate company, ForeclosureDeals.com lists more than half a million properties across the country. These properties range from historic homes to new condos to new buildings and commercial real estate and every other kind of property. These real estate properties can be found in every community imaginable and ForeclosureDeals.com works to list properties that are being sold below market value. Based in Florida, the company hires over 60 foreclosure professionals who work 24 hours a day to answer customer questions, update the listings database and find leads on distressed properties. ForeclosureDeals.com also offers a full resource center, full of useful articles and professional advice aimed at both the homebuyer and real estate investor. ForeclosureDeals.com is fully committed to protecting customer privacy and offering service that exceeds all expectations.
Media Contact:
850 Ives Dairy Road,
T-57 - 614
N. Miami Beach, FL 33179
Fax: (305) 531-4217
###