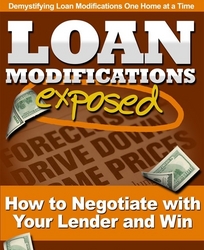 What consumers don't realize is that less than 2 percent of homeowners needing mortgage modification actually qualify
(PRWEB) August 17, 2009
Homeowners across the U.S. are engaged in the "perfect storm". Thrashed about by declining home values, hit with increasing adjustable rates, losing financial balance via changes in employment and devalued investments, homeowners today could easily feel there's nowhere to turn. How do they steer a boat that is totally out of control? Many believe Loan Modification is the answer to the storm: today's onslaught of economic hardship. A new book and online approach to loan modifications, named Loan Modifications Exposed, has postioned itself to making a big change in the loan modification industry.
Eduardo Delgado, co-author of Loan Modifications Exposed and co-creator of LoanModExposed.com, states, "We're on a crusade to end this economic crisis. There are various avenues to mortgage modification: many are time-consuming, while others are confusing and expensive.
With most, the homeowner has very little control, they need to beware, and they need to know what all their options are. Homeowners can take a more active part in their own financial salvation and it doesn't have to be confusing or expensive."
Obama recently said, "The American Dream is being tested by a home mortgage crisis that not only threatens the stability of our economy but also the stability of families and neighborhoods." The Administration and its recent initiatives promote loan modifications as a viable answer to today's crisis. The Home Affordable Refinance Plan (HARP) was recently expanded to allow refinancing up to 125 percent of the property value. To be eligible, however, homeowners have to be current on their mortgage and have qualifying FICO scores, income and assets-tasks difficult to achieve in light of today's circumstances.
Making Home Affordable, a loan modification initiative, was the Administration's next move, providing $75 billion for sustainable mortgage modifications via the Home Affordable Modification Program (HAMP), which passed in February of this year. By March 4, guidelines were published and authorized servicers designated to immediately begin modifications with the goal of providing assistance to 3-4 million homeowners over the next three years. To date, more than 230,000 modifications have been initiated, and the Administration is pushing s for 270,000 more by November first.
According to the U.S. Treasury Department, in 2008, 42 percent of modifications by the largest servicers lowered homeowners' monthly payments. Since March 4, under HAMP, 100 percent of borrowers initiating modifications have had their payments reduced. These are gratifying statistics, indeed, ones that offer hope, while life itself throws more depressing statistics in our faces every day . . . 2.4 million foreclosure filings are expected to occur this year. By the last weekend in May, one million foreclosures had already been filed.
According to RealtyTrac, one of every 159 households with mortgages received a foreclosure notice in the first quarter of 2009. In February alone, one in every 440 U.S. homes received a foreclosure filing. The statistics are staggering and seem to never end.
Loan modifications as a healing aid, are not a new consideration. In August of 2008, approximately 189,000 borrowers received loan workouts from mortgage servicers: approximately 110,000 received repayment plans, while close to 79,000 received loan modifications. In the 4th quarter of 2008, 26 percent of modified loans resulted in lower payments. Payment decreases before the 3rd quarter ranged from 10-14 percent and decreases in the 4th quarter averaged 22 percent, showing a steady interest and actualization of loan modifications. Even with all this, "What consumers don't realize is that less than 2 percent of homeowners needing mortgage modification actually qualify," said Delgado with LoanModExposed.com.
Loan modifications, when successful, can effectively lower the interest rate; halt a foreclosure; reduce the principal balance; correct a delinquency and/or turn an adjustable loan into a fixed-rate loan. What does this mean in dollars and cents? A loan with a 9.125 percent, adjustable rate on a $555,832 mortgage could conceivably be modified to a loan with a 6.125 percent, 30-year fixed loan on the balance, saving the homeowner $991 per month, with an overall savings of $332,976.
Realistically, foreclosures are an expensive, time-consuming process that banks would rather avoid, which opens the door to alternative solutions. As far as a successful loan modification goes, the key is communication. While professionals promise results representing homeowners to lenders, their services often cost thousands of dollars, leaving the already financially-strapped homeowner in even deeper waters.
Homeowners have one shot with their lender, the information they provide will be used either for or against them, so their request and data presentation better be good. "Does the homeowner know all the lender guidelines and how to use them to their advantage? Do they know what paperwork to send and what not to send to their lender? These are the types of issues we deal with on LoanModExposed.com and they are important things to know," states Duc Nguyen, one of Delgado's partners.
Whether a mortgage rate is about to adjust or foreclosure is impending, the average homeowner does have options within their control. Homeowners need to be vigilant, informed and proactive, especially now. For them, a loan modification can be the beam of light penetrating the clouds of a horrendous storm.
###