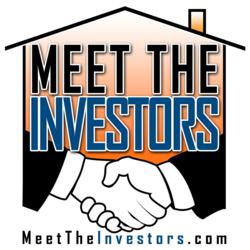 The declined real estate market is a sorrow for some and a gold mine for others. Brokers that are to take advantage of this opportunity now could see profits of $9,000 for a $100,000 deal
Oyster Bay, NY (PRWEB) September 12, 2012
New programs developed by MEET THE INVESTORS allow for locators of foreclosure properties, such as brokers, to connect with investors that are looking to invest into foreclosure homes. The outcome is a larger commission for locators. While an average broker makes 2-6% commission from selling a property, the same broker can now add on an additional 9% commission.
Real Estate brokers and agents have an advantage over a non-experienced participant in the MEET THE INVESTORS programs as they are exposed to multiple foreclosures ahead of others. By becoming locators with the program, brokers can now earn that additional commissions without necessarily putting in more work than they already do. In fact, the investors for the properties are found by MEET THE INVESTORS. All that brokers have to do is submit the property information to the software that the program provides.
Brokers understand the real estate market, are updated on the information and are already in the business. MEET THE INVESTORS is a program offering them a higher pay out. For brokers that are looking to invest into properties as well, joint deals can be made with investors through the programs as well, yielding a split-profit. However, investing is not required.
MEET THE INVESTORS, a nationwide program, provides a step-by-step guidance for their members in an easy-to-comprehend manual. This 280-page manual was written and compiled by program's principals who have over 30 years of experience in foreclosures. All members also receive a free copy of A to Z of Foreclosures-Real Estate Worth Millions Acquired With $101 authored by the program's creator, Dr. Harsimran Singh.
For its locators, the program provides access to a software that indicates if the foreclosure deal found is profitable and if so, finds an investor for that property. The nationwide program has a network of over 11,000 investors that are ready to invest in foreclosed homes, from which the program selects an interested investor.
The declined real estate market is a sorrow for some and a gold mine for others. Brokers that are to take advantage of this opportunity now could see profits of $9,000 for a $100,000 deal and much higher for high priced properties. With the rising amount of foreclosures to be available on the market nationwide, this could mean an additional 6-figure income for brokers.