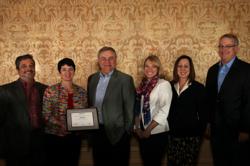 "We always knew we are at the forefront when it comes to our data integration work, in the cloud or within the enterprise. To be recognized for it by IBM, what a great accomplishment for our team!"
Fair Haven, NJ (PRWEB) May 10, 2012
ForeFront today announced it is leveraging IBM WebSphere Cast Iron software to help clients to gain enterprise-wide account visibility. ForeFront showcased these Enterprise-to-Cloud integration client successes enabled by IBM WebSphere Cast Iron data management tools at the recent IBM IMPACT 2012 Global Conference, in Las Vegas.
ForeFront's expertise working with IBM WebSphere products to drive success for clients in the cloud earned the company the 'Best of Show' Award at the IBM IMPACT 2012 event. This prestigious award is given to one of 12,000+ of IBM Business Partners that demonstrate unique innovation and solution expertise in leveraging IBM WebSphere products. ForeFront demonstrated how their solutions allowed clients to streamline business processes, ensure data accuracy and provide the ability to respond swiftly to market trends.
ForeFront was also awarded IBM IMPACT 2012 Global WebSphere Community 'Solution Provider of the Year' for its continued engagement in some of the industry's most complex data integration challenges across vertical markets.
What differentiates ForeFront from other partners is a Business Process Management (BPM) know-how coupled with the ability to seamlessly integrate any ERP's (SAP, Oracle EBS, PeopleSoft, JD Edwards, Infor/Lawson…) to the leading cloud platforms such as Salesforce.com leveraging IBM WebSphere Cast Iron software. ForeFront was honored a third time as a named finalist for the IMPACT 2012 Cloud Innovation Award in recognition of its social cloud enterprise client projects.
"We always knew we are at the forefront when it comes to our data integration work, in the cloud or within the enterprise. To be recognized for it by IBM, what a great accomplishment for our team!" stated Anne Marie Berger, Managing Partner at ForeFront, Inc. "Early on, we understood the advantages of the IBM WebSphere Cast Iron products. We leverage them in many and diverse client scenarios. Now, we look forward to remaining at the frontline by capitalizing on the newly introduced WebSphere Cast Iron mobile features."
Ipswitch, a ForeFront client, received IMPACT 2012 'Global WebSphere Community Customer Award'. ForeFront architected and helped its client deploy an innovative cloud solution based on WebSphere Cast Iron. "Ipswitch had sophisticated needs in terms of business process agility, master data management in the cloud, and optimizing their current IT assets. Plus, Ipswitch has complex, real-time information requirements across their Enterprise" stated Anne Marie. The WebSphere Cast Iron solution was recently deployed. Mike Mulryan, Ipswitch Director of IT stated "I am confident that we moved a lot faster because we're using WebSphere Cast iron versus… a coding from scratch approach."
IMPACT 2012 Business Partner Awards recognize business partners with outstanding dedication to building and implementing solutions that help IBM clients more effectively adapt and compete in an ever changing global environment. These business partners have embraced the WebSphere Business Agility strategy and have established a leadership position in their respective markets.
About ForeFront
ForeFront is a cloud integration leader based in the New York metro area with worldwide market reach, across industries. Please visit http://www.forefrontcorp.com.
Contact:
Ms. Christina Warner
ForeFront, Inc.
732.212.0800
cwarner(at)forefrontcorp(dot)com