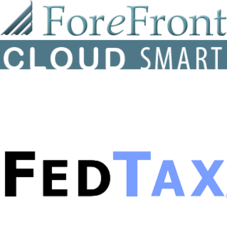 With states and US lawmakers pushing for mandatory online state sales tax, these solutions will prove to be beneficial.
Fair Haven, NJ (PRWEB) March 30, 2012
FedTax, proud maker of TaxCloud, and ForeFront, a leader in Enterprise Cloud Integration (ECI) solutions, announced today their strategic partnership to market TaxCloud to cloud-based CRM and ERP customers. TaxCloud is the internet's only free and easy to use sales tax management service for web retailers. ForeFront will seamlessly integrate TaxCloud into the #1 cloud-based CRM and ERP platforms, like Salesforce.com and NetSuite.
The partnership between FedTax and ForeFront is significant in enabling a simple and easy solution for automated sales tax collection. ForeFront will add sales tax collection functionality to the leading Sales Cloud. For example, Salesforce.com users will be able to generate complete quotes for their clients inclusive of sales tax and to process orders without worrying about sales tax collection. At no cost to the business or its customers, FedTax and ForeFront are providing an innovative and compliant solution to the online sales tax challenge.
About TaxCloud
TaxCloud instantly calculates the sales tax due for any address in the United States. In addition, TaxCloud automates a host of other related tasks, including exemptions management, filing returns, monthly reports, and even responds to jurisdictional audits. TaxCloud has been certified to comply with Streamlined Sales and Use Tax Agreement (SSUTA), which means that it offers businesses the advantages of tax amnesty and indemnification from states that have adopted SSUTA.
The TaxCloud service coupled with ForeFront's cloud development and integration know-how will enable a wide range of certified and optimized connectors and adaptors for tax automation. With states and US lawmakers pushing for mandatory online state sales tax, these solutions will prove to be beneficial.
About FedTax
FedTax was founded by e-commerce veterans with extensive experience in large-scale internet services, having been directly involved in building some of the most recognizable brands on the internet, including Google, American Express, Microsoft, and Expedia.
FedTax has been designated a Certified Service Provider by the Streamlined Sales Tax Governing Board. The Company's free TaxCloud service is relied upon by over 1,400 businesses to calculate and remit sales tax across the country. TaxCloud can be easily integrated into most accounting, order management, and e-commerce shopping cart systems. FedTax is headquartered in Seattle and has offices in Connecticut and Kansas.
About ForeFront
ForeFront is a trusted Salesforce.com Partner and delivers some of the industry's most innovative Enterprise Cloud Integration (ECI) solutions. ForeFront successes have been recognized; most recently IBM Global WebSphere Community awarded ForeFront the WebSphere Cloud Solution Provider of the Year.