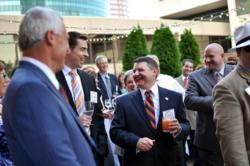 East Hartford, CT (PRWEB) September 11, 2012
ForeSite Technologies, an IT support and web development firm based in East Hartford, marked 15 years in business with a celebration on the Hartford Club patio.
At the event Gail Lebert, publisher, Hartford Business Journal, Beth Miller, development director, Mark Twain House and Museum, and Oz Griebel, President & CEO MetroHartford Alliance, all made speeches in honor of the work that ForeSite has done over the past 15 years.
"Mike and ForeSite make a significant financial commitment to the economy this region as a Strategic Partner of the MetroHartford Alliance" Griebel said, "This is someone who cares not only about ForeSite, but about the overall economic health and growth of this region".
Since 1997 ForeSite, has grown from its original small office in Rocky Hill to its current East Hartford headquarters, which will undergo renovation to double in size in the fall of 2012.
In 2010 ForeSite got a fresh new brand to accentuate the message that they are about people, out of this came the tagline: "We like people, not just computers." ForeSite demonstrates this by giving back to the community in countless ways including its "Do Some Good" campaign, by investing in Hartford as a Strategic Partner of the MetroHartford Alliance, and by supporting the 40 Under Forty and 40 Under Forty alumni programs with the Hartford Business Journal, which recognizes the talent in the Hartford area. All these efforts work towards building an even better Hartford.
"We've managed to make it through three recessions," Giuffrida said. "We couldn't have done it without all of our staff, past and present, and our clients who have supported us."
In 2011 and 2012 ForeSite was named one of Inc. 5000's fastest growing companies. In 2008 ForeSite purchased Visual Concepts, then in 2012 ForeSite acquired Network-IT and Rios Computers. ForeSite plans on continuing to grow organically and through acquisition. The goal is to grow 10 times in size over the next five years.
About ForeSite Technologies:
Since 1997, ForeSite has been designing and developing standout Web sites and providing insightful IT support to its clients. Serving clients in the northeast region from their Hartford, CT and Worcester, MA offices, ForeSite offers practical, tailored and creative solutions that fit a wide range of business needs. For further information, call 1.866.464.7483 or visit http://www.ForeSiteTech.com.
###