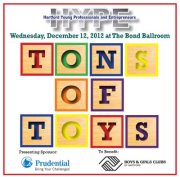 Hartford, CT (PRWEB) December 11, 2012
ForeSite Technologies, an IT support and web development firm, headquartered in East Hartford, CT is proud to sponsor the annual Tons of Toys event, produced by HYPE (Hartford Young Professionals and Entrepreneurs), an initiative of the MetroHartford Alliance.
The Tons of Toys event collects toys for children in the Hartford area. This year it will benefit the Boys and Girls Club of Hartford. Admission to the event is one unwrapped toy valued around $20, or $20 cash, check, or credit card. The event takes place in two sessions. The first session takes place from 4-6pm and is for the whole family. Milk and cookies are provided, and children can have their photos taken with Santa. From 6-9pm is an adult-only cocktail party. Both parts of the event take place in the Bond Ballroom of the Hilton Hotel in Hartford on Wednesday, December 12th. There is no registration for this event but those who plan to attend can RSVP on HYPE's Facebook event page.
ForeSite's involvement of this event is a part of their commitment in the betterment of the Hartford community, which their business has been a part of for 15 years. "Do Some Good" is one of the cornerstones of ForeSite.
"When I was approached by Julie Daly, of Hype about this event the answer was an instant yes," ForeSite's president, Michael Giuffrida said. "Helping out local children during the holidays is a win for everyone, in my opinion. I am proud to be involved."
Since 1997, ForeSite has been designing and developing standout Web Sites and providing insightful IT support to its clients. Serving clients in the Northeast region from their Hartford, CT and Worcester, MA offices, ForeSite offers practical, tailored and creative solutions that fit a wide range of business needs. In 2011 and 2012 ForeSite was named one of Inc. 5000's fastest growing, privately held companies. For further information, call 1-866-464-7483 or visit ForeSiteTech.com.