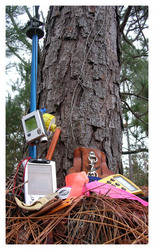 Jackson, MS (PRWEB) July 14, 2009
Molpus Timberlands Management, LLC ('MTM'), is pleased to announce the commencement of a Forest Inventory Internship Program ('Program'). The Program began in May 2009 and is being used to provide an invaluable 13-week, hands-on learning experience for undergraduate and recently graduated forestry students as well as provide MTM's clients with productive inventory resources.
Interest in the 2009 Forest Inventory Internship Program was tremendous. Molpus Timberlands Management received numerous applications from interested students. Six students were chosen representing six separate forestry university programs in the Eastern United States including University of Illinois, Purdue University, West Virginia University, University of Tennessee, Auburn University and Jones County Junior College.
The 2009 Program is based out of Middlesboro, Kentucky and will provide inventory resources for Molpus' clients in Eastern Kentucky and Eastern Tennessee.
The Program will provide MTM the opportunity to interact with a diverse pool of forestry students and future professional foresters. Clients of Molpus will gain valuable quality-based inventory resources that aid in forest management, planning and decision-making. Interns will gain valuable insight, skills and experience that will help guide their forestry careers.
This Program was initiated by Molpus Timberlands Management Inventory Management and Planning Department and helps MTM continue to develop advanced biometric solutions that improve growth and yield modeling and forest planning. The selection process for the 2010 Program will begin in January 2010. If interested, you may contact Keith Hilpp at (601) 545-3063 extension 113.
The Molpus Woodlands Group, LLC, a Registered Investment Advisor, was founded in 1996 as a Timber Investment Management Organization ("TIMO"). With its sister operating companies, Molpus has a history in the timber industry dating back to 1905, Molpus finds itself as one of the oldest timber-related companies in the nation with experience in all facets of timber management, manufacturing and marketing. MWG is one of the few TIMOs that is vertically-integrated with all core business and forestry functions handled or supervised by in-house experts.
MWG and its sister operating companies employ 63 people in their twelve offices located in Alabama, Kentucky, Louisiana, Michigan, Mississippi, New York and Oklahoma. MWG acquires, manages and sells timberland as an investment vehicle for pension funds, college endowments, foundations, insurance companies and high net-worth individual investors. The company focuses on ensuring long-term optimum cash returns on investments while practicing responsible forest stewardship. In conjunction with the third-party marketing firm, Molpus Woodlands Advisors, with offices located in Massachusetts, Mississippi, Oregon and Tennessee, MWG is able to continue the tradition of servicing the needs of its clients.
###