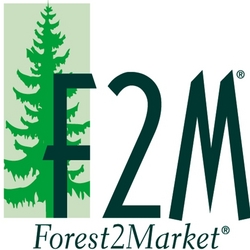 We were motivated to start this newsletter for two reasons
Charlotte, NC (Vocus) May 12, 2009
Forest2Market, Inc. ® will produce the first issue of its new wood bioenergy newsletter, Forest2Fuel, in June. Published bi-monthly, Forest2Fuel will cover the state of the wood bioenergy industry in the United States as well as international factors affecting U.S. markets.
The newsletter rounds out the suite of products and services that Forest2Market provides for wood bioenergy companies, which includes proprietary resource studies assessing feedstock requirements and availability and a fuel price benchmark companies can use to index feedstock prices in their supply and power purchase agreements.
The Forest2Fuel newsletter will cover the full spectrum of woody feedstocks--biomass, chips, mill residues, wood waste, construction and demolition debris and crop trees--to the range of fuel types--wood pellet manufacturing, biopower generators and wood-based ethanol producers.
"We were motivated to start this newsletter for two reasons," said Suzanne Hearn, Manager of Sales and Marketing. "First, we've dedicated significant resources over the last two years to tracking these new markets for forest products. They hold great potential for reducing greenhouse gas emissions and greater energy independence for the country. Second, we have a number of bioenergy clients who've asked us for help in understanding U.S. timber markets and potential biomass availability. We want to provide them with the same level of service that we provide to our forest and wood products industry clients."
Forest2Fuel will supplement Forest2Market's current newsletter, which will be renamed the Forest2Mill newsletter.
The newsletter will include updates on new business development in the wood bioenergy industry, as well as plans that have been stalled or abandoned. It will cover capital investment trends, federal and state government incentives, loans and grants, changes in regulations and policies, technological advancements and snags, and developments in overseas markets that will affect woody biomass and wood bioenergy suppliers in the United States. According to Suz-Anne Kinney, editor of both Forest2Fuel and Forest2Mill, "Forest2Market's specialty since our inception in 2000 has been our in-depth knowledge of the forest and wood products industries and the supply and demand subtleties that govern it. We'll maintain that standard as we focus on the wood bioenergy industry in this new publication."
About Forest2Market
Based in Charlotte, N.C., Forest2Market offers market price reports, benchmarks and forecasts for the forest and wood products and bioenergy industries. Forest2Market's price and benchmark databases are based on transaction-level data - not surveys. For more information, visit http://www.forest2market.com.
Contact:
Suz-Anne Kinney
(704) 357-0110 ext. 21
# # #