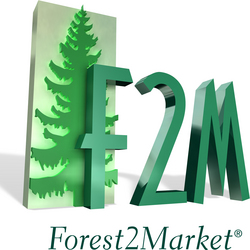 One of the benefits of collecting lumber price data from actual orders and invoices—with all the detail they contain—is that it allows us to track which products are moving in the market and demanding price attention
Charlotte, N.C. (Vocus) December 18, 2009
Mill2Market, Forest2Market's lumber pricing service, showed an increase in the volume of southern yellow pine being purchased for construction. In mid-November, 73 percent of the volume of #2 2x4s sold in the market and 66 percent of all #2 2x6s were purchased by builders. Prices for the period tell a similar story. As builders were growing their inventories before the holiday season, from the end of October through early December, prices for both #2 southern yellow pine 2x4s and 2x6s appreciated by an average of $15 per thousand board feet (MBF). View volume and price data in more detail at Forest2Market's website.
These trends in the lumber market were confirmed by the new residential construction statistics that were released this week by the Census Bureau: the number of building permits and housing starts jumped in November, with permits increasing by 6 percent and starts increasing by nearly 9 percent.
"One of the benefits of collecting lumber price data from actual orders and invoices—with all the detail they contain—is that it allows us to track which products are moving in the market and demanding price attention," said Daniel Stuber, Forest2Market's Operations Manager. "We can also see which categories of buyers are exerting price power in the market. If builders account for 70 percent of the structural lumber market, their influence on market prices will be substantial."
Mill2Market reports over the last two months illustrate how this works. Builders were looking at an extension and expansion of the new home buyer tax credit, and they began buying larger volumes of framing lumber, building inventory before the holiday season. The price of #2 southern yellow pine 2x4s increased $17 per MBF from the end of October to the end of November and 2x6s increased $18 per MBF.
"While prices have leveled off at an average of $15 per MBF, they are still quite strong," said Stuber. "At the same time, the data reflects dramatic decreases in volume for both 2x4s and 2x6s; both were two-thirds off their mid-November highs. As the year winds to a close, Forest2Market expects that prices will fall as well."
Companies in the wholesale lumber trade—both buyers and sellers—use Mill2Market to improve their net sales realizations. With volume weighted average prices, Mill2Market reports lead to better informed production and sales resource allocation decisions, the negotiation of fact-based contracts, and better leveraging of geographic and production efficiency advantages. In addition, Mill2Market provides mills with price benchmarks for measuring company performance.
About Forest2Market
Headquartered in Charlotte, N.C., Forest2Market provides supply chain expertise, from the forest to the market. Serving forestry, wood products, paper, lumber and bioenergy companies, Forest2Market offers timber, log, wood fiber, woody feedstock and lumber pricing, as well as benchmarks, forecasts and resource availability and price studies, Forest2Market provides customers with sound data and information to meet critical business needs. For more information, visit http://www.forest2market.com.
For more information, contact:
Suz-Anne Kinney
(704) 357-0110 ext. 21
# # #