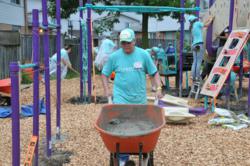 Foresters believes in providing opportunities for families to spend quality time together
Scarborough, ON (PRWEB) August 15, 2012
A dream is now a reality for children in Scarborough as their drawings were turned into a new playground today. In less than eight hours, the play space was built at the Grace Hartman Housing Co-operative with the help of more than 200 volunteers from Foresters™, the Grace Hartman Housing Co-operative and non-profit KaBOOM!. The new playground will serve thousands of children and their families in the community for years to come.
"Foresters believes in providing opportunities for families to spend quality time together," said George Mohacsi, Foresters President and CEO. "A playground is an important piece for the revitalization of a community. Not only does it provide a first step towards keeping children healthy, but it's a safe, central location for the entire neighborhood to get together."
Planning for the playground began at a Design Day event held in June when local children and community leaders met with organizers from KaBOOM! and Foresters to design their dream playground. The children's drawings were then used to create the final playground design.
Since 2006, Foresters has invested over $7 million with KaBOOM! with almost 100 playgrounds built or planned across the U.S. and Canada. Over their 15 year lifespan, these playgrounds will provide more than 2.6 million children and their families with an opportunity to spend quality time together. Foresters is a KaBOOM! National Partner and a founding member of the KaBOOM! Leadership Circle – a group of organizations providing long-term guidance and support to KaBOOM! and its mission.
"My community is diverse with many ethnic backgrounds of people," said Desiree Mootooasamy, Grace Hartman Housing Co-operative Vice President. "We live in harmony, support each other and strive to provide a progressive family environment."
Thanks to the work of Foresters, the Grace Hartman Housing Co-operative and KaBOOM!, children and their families now have a 2,800 square-foot playground to call home that includes features such as a Drawbridge, Slither Slide and Tree House Climber.
About Grace Hartman Housing Co-operative, Inc.
Founded in 1992, Grace Hartman Housing Co-operative, Inc. provides affordable housing and support to a diverse community of 500 people, approximately 400 of whom are children. Grace Hartman Co-operative consists of mostly single-parent families and 70% of its family units are subsidized. In keeping with its mission, Grace Hartman Co-operative holds events such as carnivals, a soup kitchen and trainings on financial stability to strengthen and support its residents. A multicultural community, Grace Hartman Co-operative is located in an area where over half the inhabitants declare a first language other than French or English.
About Foresters
Foresters™ is a life insurance provider with a difference. The fraternal benefit society, founded in 1874, supports family well-being through quality products, unique member benefits and inspiring community activities. Foresters shares its financial strength with almost 950,000 members in Canada, the United States and the United Kingdom. For more information, visit foresters.com.
Foresters™ is the trade name and a trademark of The Independent Order of Foresters, a fraternal benefit society, 789 Don Mills Road, Toronto, Canada M3C 1T9; its subsidiaries are licensed to use this mark.
About KaBOOM!
KaBOOM! is the national non-profit dedicated to saving play. Children today spend less time playing outdoors than any previous generation, a fact that is having disastrous consequences on their health, achievement levels, and overall well-being. To fight this play deficit, social entrepreneur Darell Hammond founded non-profit KaBOOM! in 1996 in Washington, D.C. with a vision of creating a great place to play within walking distance of every child in America. Since then, KaBOOM! has mapped over 89,000 places to play, built more than 2,100 playgrounds, and successfully advocated for play policies in hundreds of cities across the country. KaBOOM! also provides communities with online tools to self-organize and take action to support play on both a local and national level. Hammond chronicles the founding of the organization and the importance of the cause of play in his The New York Times Best Seller KaBOOM!: How One Man Built a Movement to Save Play. The book details how businesses and communities can work together to save play for children across the country. All author proceeds support KaBOOM!. Headquartered in Washington, D.C., KaBOOM! also has offices in Chicago and San Mateo, Calif. For more information, visit http://www.kaboom.org.